The Detroit Free Press reported on August 8, 2016, that the redevelopment "could get under way if the Detroit City Council acts on a tax-freeze plan that would cover the project's first phase."
At the same time Kari Smith, director of development for Arte Express reported that the condition and structural survey reports for all of the buildings had been completed and eighty-five percent of the buildings slated for possible future use are restorable. Three-million dollars had been spent so far on cleanup and engineering costs at the site.
Smith also announced that restoration could get under way on the Administration Building if the Detroit City Council acts next month (September) on a 12-year tax freeze plan that would cover the first phase of the project. If the tax plan is approved construction could begin, and Art Express had already signed up a number of tenants for the building. Financing for this part of the eleven-million dollar project would come from the parent company, Arte Express of Peru.
Since this announcement no new reports have been found on a City Council ruling, and the general feeling in the Detroit area, 2.5-years after the purchase of the complex remains skeptical due to construction at the site not having been initiated.
You can look back at our earlier coverage of the Packard Plant Project here. The images are courtesy of the National Automotive History Collection.
The lead photo shows a 1954 Packard Patrician Fifty-Fourth Series touring sedan on display in front of the Packard Administration building and bridge.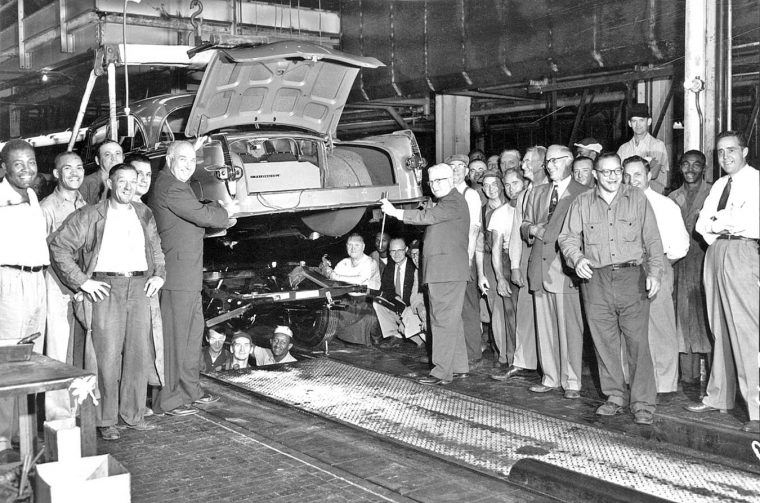 The last Packard assembled at the East Grand Boulevard Plant on June 25, 1954, was one of forty-two cars produced that day. Body-making and the final assembly line was then moved to a building leased from Chrysler on Conner Avenue in Detroit.