Updated – Today's feature contains a pair of photographs that originate from Blue Earth County, Minnesota, which is located approximately sixty miles southwest of Minneapolis, the largest city in the State.
The lead image and the expandable version of it below taken circa 1915-'20 show the "Minnesota Special," a racing car owned by the Mahowald Family. Exactly where in the County they were from, the name of the driver, or where the car was raced is not known. The bodywork appears to have been inspired by one of three famous racing machines: the 1910 Fiat S76 Land Speed Record car, the "Blitzen Benz" raced by both Barney Oldfield and Bob Burman, and the Case Jay-Eye-See.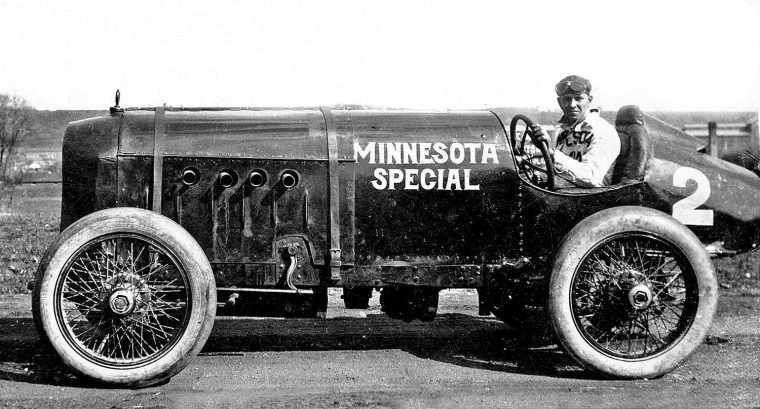 The "Minnesota Special" from Blue Earth County, Minnesota.
The chassis of the "Special" was built in the manner of many racing cars of the time and is equipped with a set of pin-drive wire wheels. It appears to be powered by a four-cylinder engine, backed up by a substantially sized transmission. A brief newspaper search ended without any results about the machine, but hopefully, a reader can learn more about this unique racing car.
Update – Readers Roger Moffat and Eric Johnson have determined that Frank Mahowald is the man behind the wheel in the racing car. He and his family owned and operated a number of businesses in Mankato, Minnesota.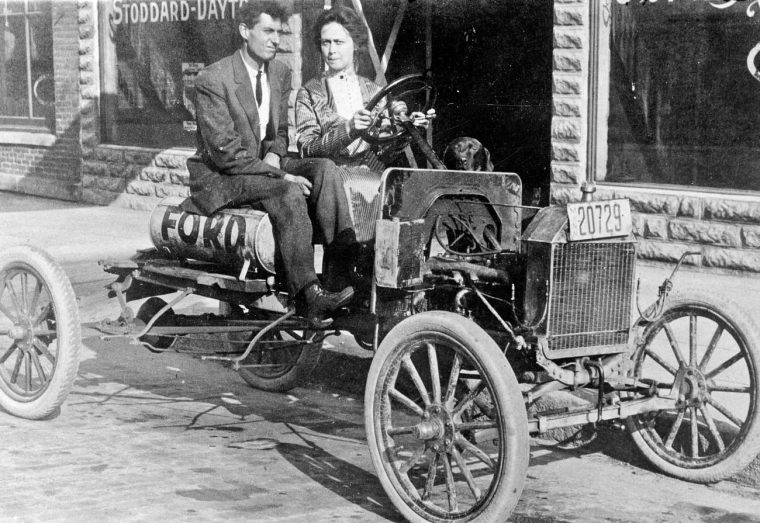 G.H. and Helen Allyn and a Ford "T" in front of their Garage in Mankato, Minnesota.
G.H. and Helen Allyn are pictured above in an early Model "T" Ford special in front of G.H's father, Glenn.H Allyn's automobile agency located on 2nd Street in Mankato that sold both the Ford and the Stoddard-Dayton. Helen is reported to have driven a Ford up the Opera House steps in the City; the act was a popular auto publicity stunt of the time.
The images are courtesy of the Minnesota Digital Library.