In an effort to help its dealers suffering from the lingering effects of the Great Depression, the Ford Motor Company initiated a new "Renewed and Guaranteed" sales program in March of 1936 to assist its dealers with selling their used car inventory. The image featured here today shows the adoption of the sales campaign by the Baker Motor Company of Salt Lake City, Utah.
This photo courtesy of The Henry Ford contains Baker's used car sales operation on the evening of May 5, 1937. It was separated from the Dealer's new car showroom and service garage located at 279 East 300 South in another section of the City.
Two enlarged sections of the picture (below) clearly show the small "R & G" sign on each car's windshield with its details and price. On the right in the second image the "Renewed R & G Guaranteed" section of the neon-lit sign is visible. The third image contains a newspaper advertisement announcing the new program.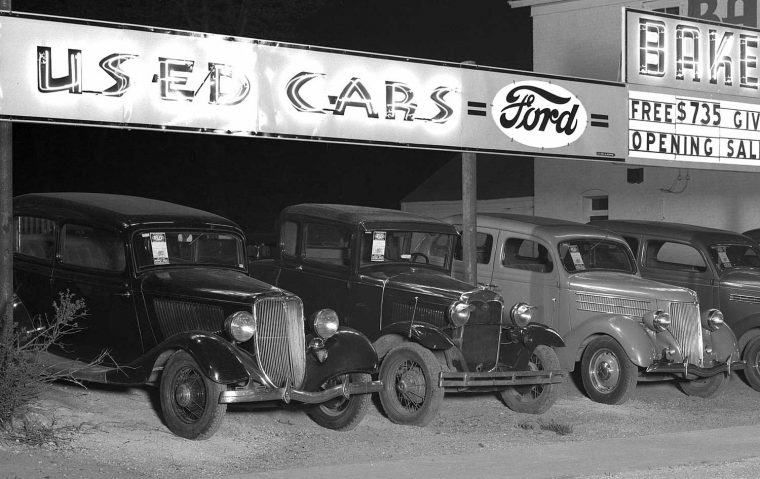 Left-to-right, 1933 Ford sedan, 1930 Ford Model "A" coupe, and a 1936 Ford sedan.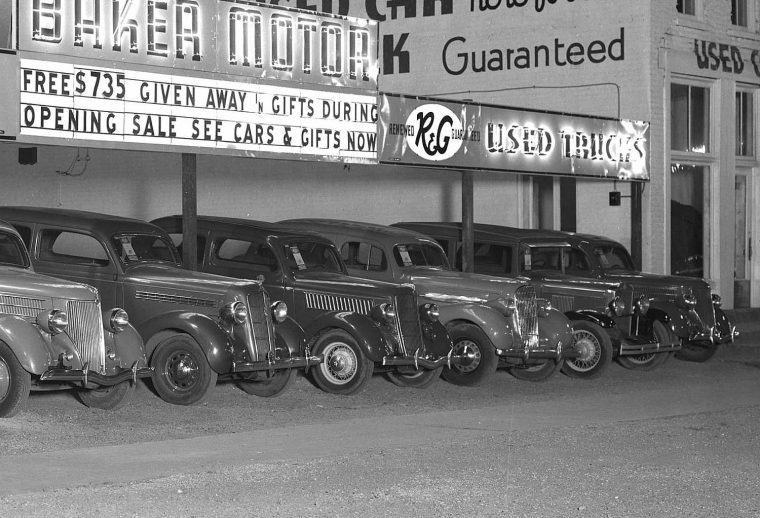 Left-to-right, 1935 Plymouth sedan, 1935 Ford sedan, 1935 Oldsmobile sedan, 1929 or '30 Chevrolet sedan, and a 1936 Ford sedan.

.

Advertisement (below) announcing the new R&G program in the "Aurora Democrat" (Colorado) March 20, 1936.