Hot-rodders and custom car enthusiasts in the postwar era adopted the parking lots of hamburger and hot dog chain drive-ins to hang out and talk cars with like-minded enthusiasts. This late-1950s colorized image by Patty Allison of Imbued with Hues was taken at a busy A&W restaurant. In the foreground, left-to-right is a 1955 Chevrolet, a 1933 or '34 Ford five-window coupe and an Austin Healey with a V-8 engine swap and extended front fenders. Behind the young men is a customized Ford convertible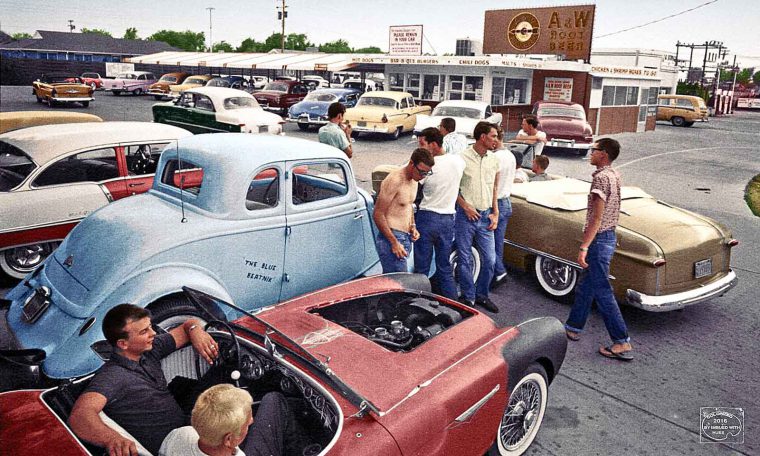 Enlargeable version of the lead photo taken at an A & W drive-in restaurant.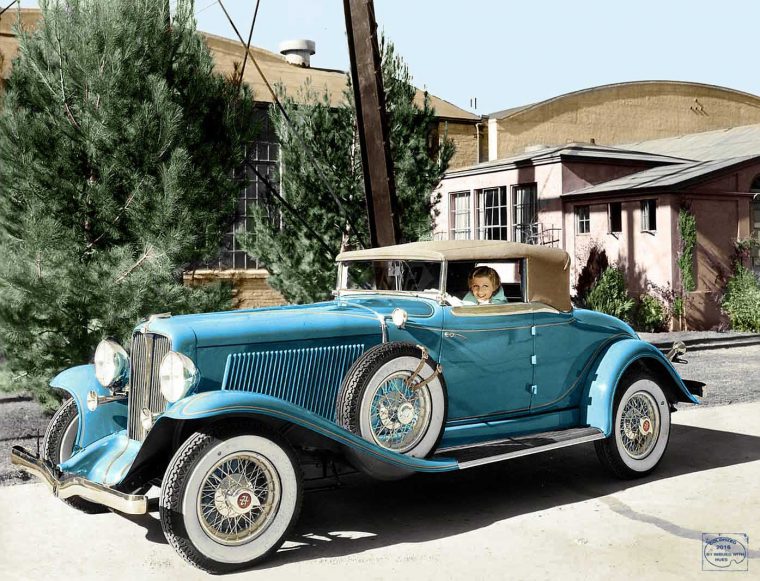 1932 Auburn V-12 "Custom Dual Ratio" Cabriolet.
An attractive 1932 Auburn V-12 "Custom Dual Ratio" Cabriolet is shown here with the actress Mary Doran behind the wheel and film studio buildings in the background. The "Custom" models are also referred to as the "Salon" which was equipped with extra polished metal trim on the doors and a Columbia two-speed rear axle. Learn more about the popular 1932 Auburn here.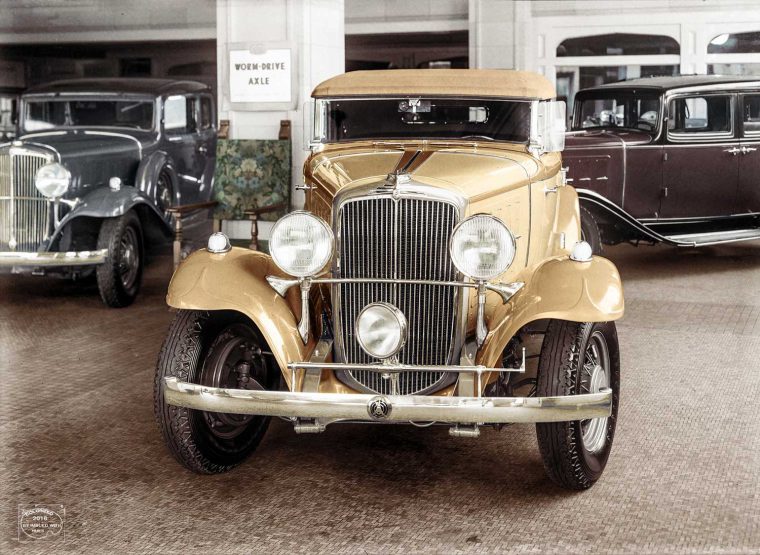 1933 Nash "Advanced Eight" Cabriolet.
Nash is one of the last automakers you would suspect of building high-quality luxury cars, but in 1930 the company introduced a 298.6 c.i. twin ignition o.h.v. 100 h.p. straight eight for its deluxe models. Pictured here in an impressive showroom appears to be one of the later attractive upmarket 1933 "Advanced Eights", both it and the top-of-the-line "Ambassador" model were equipped with o.h.v. 322 c.i. 125 h.p. engines and were available on 133 and 142-inch w.b. chassis'.
View more of Patty Allison's fine work at Imbued with Hues and here on The Old Motor.