Today's feature image captured an exceptional day at a Ford agency in Canada. Thanks go out to reader Roger Wood who sent in this photograph and wrote: "My father was a Ford dealer in Fredericton, New Brunswick, Canada, from the mid-thirties until the early seventies. In 1937 he had an order from the Provincial Department of Fish and Game for ten station wagons."
The photo of the "woodies" and what appears to be twenty-one members of the staff was taken when the ten 1937 Ford Station Wagons arrived at the dealership. The lead car in the photo is wearing a license plate which seems to point to the cars having arrived after a "drive away" by the Dealer and staff from a Ford of Canada distributor or importer.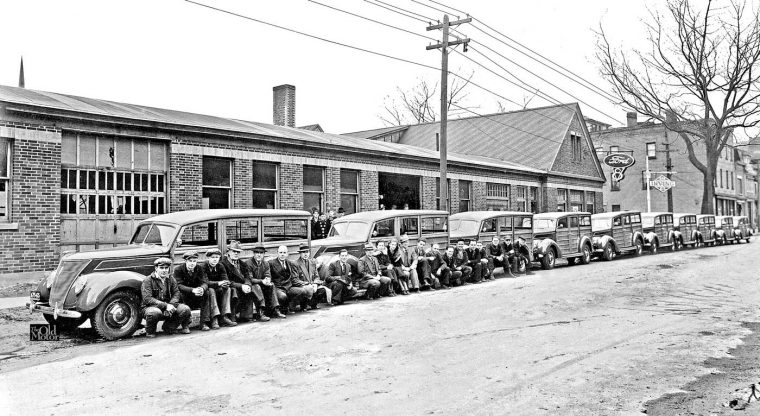 An enlargeable image of the ten new 1937 Ford "woodies" and the Ford Agency staff upon arrival.
The wheelbase of all of the cars appear to be standard length, which leads to a pair of questions – can any of the Ford V-8 experts in the audience tell us if the automaker offered a special heavy-duty commercial car chassis for uses such as this? Were the extra-length wooden bodies produced by the Briggs Manufacturing Company that apparently was assembling most of Ford's station wagons at the time, or were some of them produced at the Company's Iron Mountain, Michigan plant that was just beginning to build some production wooden bodies?
View hundreds of earlier articles, many of which feature the Ford "flathead" V-8 cars and trucks here. Read a review of the standard 1937 Ford "Woodie" at Hemmings Daily.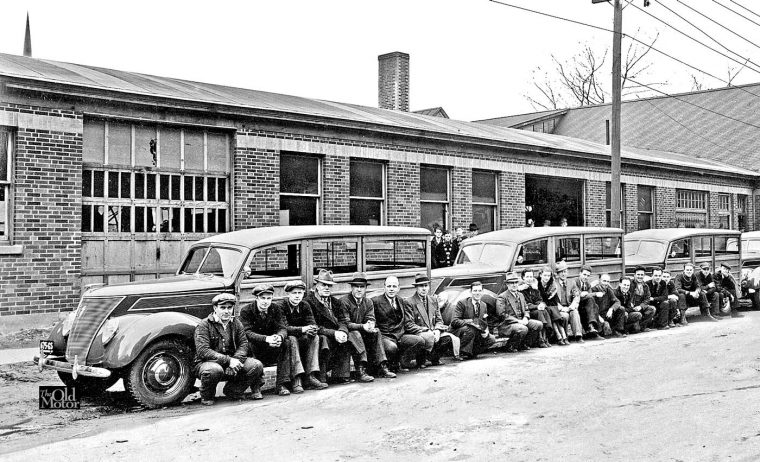 Sectional enlargeable images of the staff and the 1937 Ford Station Wagons.