This pair of War Relocation Authority (WRA) photographs were taken on May 31, 1945, by the US Government agency that relocated and detained Japanese-Americans living on the West Coast during World War II. Photographers working for the WRA documented both the internment of these citizens starting in the spring of 1942 until their release in 1945 and re-entry into society after the War.
The lead image shows the young man on the far-right, who started an auto repair business in the driveway of a home he rented in the Los Angeles area. His brother in law and son on the far-left assisted him along with his sister, the older man is his father. The white male on the far left in the image below was friend and a private in the US Army who sponsored the families early release and helped them get started. The backyard open air operation was necessary due to a Wartime shortage of materials needed to construct a building to house the business.
The two men were overhauling Ford "Flathead" V-8 and Lincoln "Zephyr" V-12 engines on wooden work benches at the time. The 1930 or '31 Ford Model "A" roadster hot-rod in the lead image, and a 1935 or '36 Ford sedan and the Lincoln visible on the far right in the photo below appear to be the repair jobs underway at the time. In front of the early Ford is a Model "A" 1930-'31 roadster body that may have been slated for use to build another early Ford "gow-job."
The photos are courtesy of the OHC of California.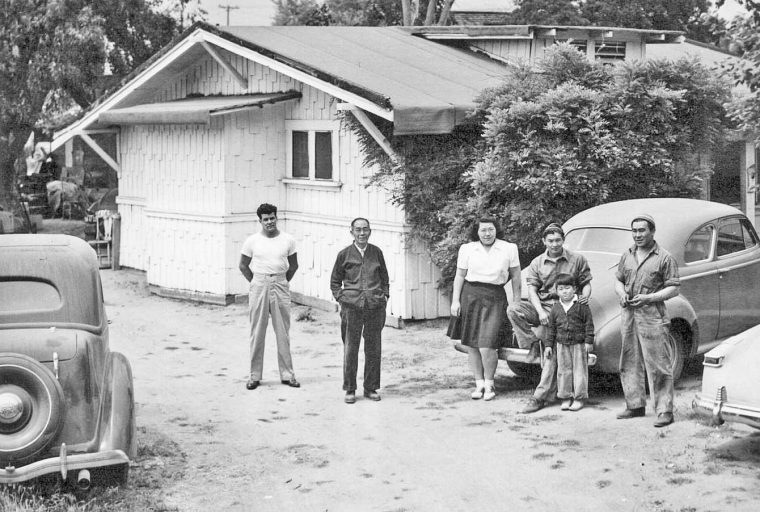 Enlargeable images of the family backyard auto repair operation.