Just a short post here today due to the fact that the last two days have been very busy finishing up the Simplex project chassis before the body is placed back on to it today. After test running the 600-c.i.d. T-head engine, it was then used to check the operation of the clutch, transmission, differential, inboard foot brakes, jack shafts, drive chains and sprockets.
For something, a little bit out of the ordinary, overhead photographs were taken of the chassis. The first image below, right-to-left shows the engine and 30-inch flywheel followed by a wet multiple disc clutch, and u-joint that attach to the front of the four-speed transmission. On the passenger's side next to the frame is the generator that is belt driven by a pulley on the front of the transmission.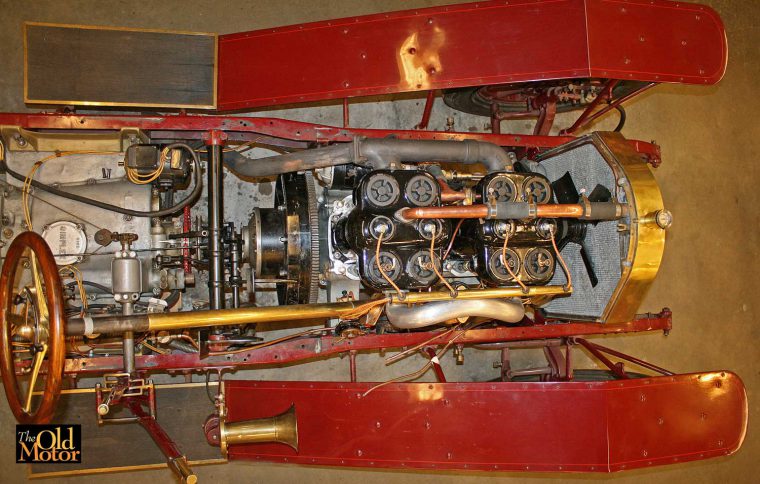 Enlargeable view of the front of the 1914 Simplex 50 h.p. Speed Car chassis and power train.
Behind the transmission below are a u-joint, a short torque tube, and differential, followed by the battery box. On either side of the diff are the foot brake drums, external shoes and the jack shafts that transfer the power to the front sprockets and side chains to the rear wheels.
We will return with follow-up photos of the completed car before it it trucked back to its home at the Collier Collection at the Revs Institute in Naples, Florida. You can look back at an eight-part series of articles covering the engine and chassis rebuild.
Enlargeable view of the rear of the chassis, transmission, differential, foot brakes and chain drive.