Updated – This special photo shows a circa-1908 Mercedes or Fiat light 25-45 h.p. sports or racing car chassis with a Gordon Watney-like body carrying a pair racing cycle cars on a rack. The building behind the rig may be a cycle car factory as the well-used ramp on the far left in the foreground is about the track width of a cycle car chassis, and there is a Stewart speedometer box on the ground.
The small cars appear to be of the same design but have different rear-mounted engines; the machine on the top is powered by single cylinder engine and lower one by a V-twin with its rear cylinder protruding into the passenger compartment of the hauler.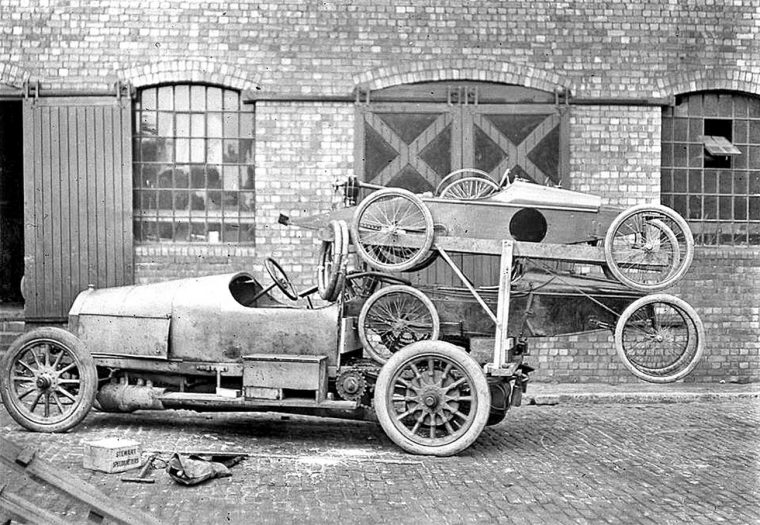 Hopefully, our readers can identify the make and model of the car hauler and tell us more about the cycle cars, the building, and the location of the scene. The photo found by Keith Canouse was posted by Bob Apalsch at the H.A.M.B.
Update below.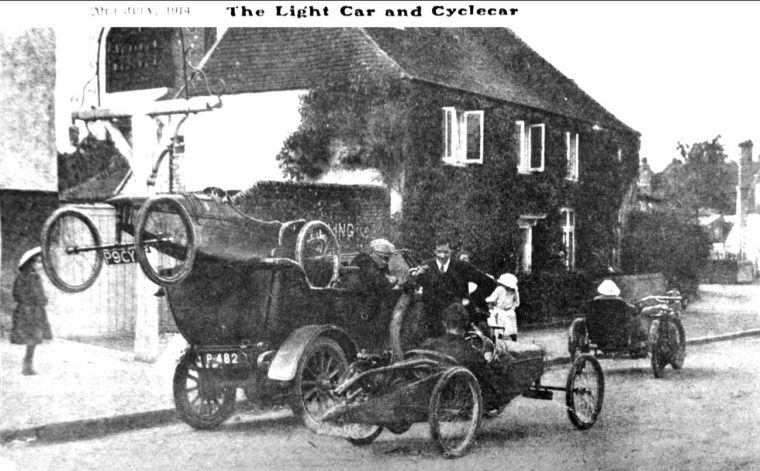 Photo caption -"Owing to the extreme lightness of the racing Carden mono car it is sometimes conveyed like this." 
Thanks go out to well-known vintage car author, automobile historian and friend David Burgess-Wise of the UK for sending in this pair of images of both Carden racing cars in the July 20, 1914, "The Light Car and Cyclecar." David pointed out that the date of the magazine was only eight days before the start of World War I.