Today we take a look at the ultimate Christmas gift for car-minded youngsters during the mid-to-late twenties, the "Red Bug" Electric Roadster and the smaller Junior Electric "Red Bug" introduced in 1927. The lead image is a photo from an advertisement in "The Spur" magazine December 1, 1927, issue by Mayfair Playthings Stores located at both 741 Fifth Avenue, and 9 East 57th Street in New York City, introducing the new Junior Electric "Red Bug."
Mayfair described the new Junior model as just large enough for "your five to ten-year-old to take their little friends out riding. It's the simplest thing imaginable to operate. You just press the pedal, and the car runs smoothly and quietly – not to rapidly and not to slowly – about as fast as you can walk. Press the other pedal and the car stops instantly. Nothing could be safer or simpler."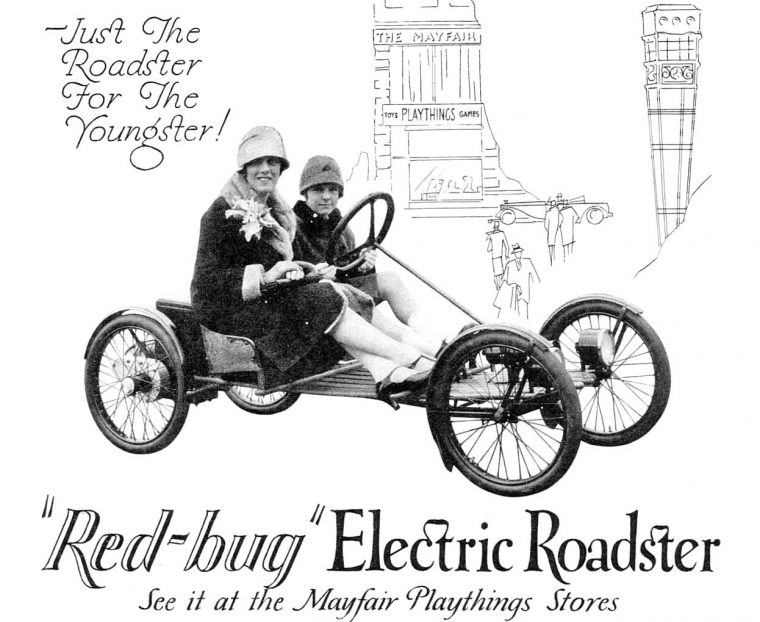 "The Spur" magazine Mayfair Playthings Store Christmas advertisement December 1, 1926.
As early as 1924 the Automotive Electric Service Co. in North Bergen, New Jersey, brought out the new standard-sized "Red-Bug" electric version. It was powered by two automotive storage batteries in a covered metal box behind the seat and an electric motor that drove the right-rear wheel by chain and sprockets as shown in the Mayfair Playthings advertisement above. Later versions were powered by a Northeast starter motor as was used on the Dodge four.
You can take a look back at our previous extensive coverage of the earlier A.O. Smith and Briggs & Stratton "Auto Red-Bug Flyers" powered by a two h.p. gasoline-powered motor wheel. The advertisements are courtesy of Alden Jewell.
"Boys' Life" December 1928 issue below gives further details of the "Red Bug" that was then produced by Automotive Standards Inc. in Newark, New Jersey.