Construction of the Golden Gate Bridge began in January of 1933, and it was completed late in April of 1937, the opening ceremony was held on May 27, 1937. At some point before that, well-known California automobile dealer Don Lee's San Francisco Olds dealership was able to arrange to have this photo taken of a 1937 Oldsmobile sedan on the bridge; note the dealer plate and the tasteful license plate frame. The image is colorized by Imbued with Hues.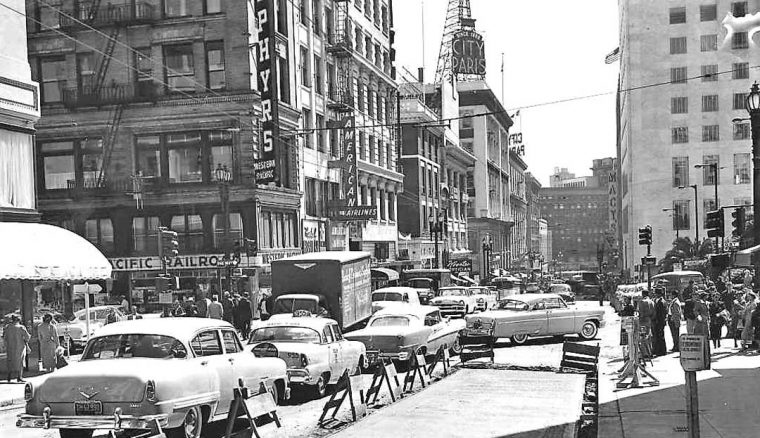 Fast forward almost twenty years for an interesting view of fifties cars and trucks and street construction at the intersection of Stockton and Post Streets taken in 1955. On the left just past the intersection are the Western Pacific Railroad, and American Airline's offices, and further on down is the street the City of Paris, a department store (1850-1972) that sold goods made in France and fine French wines. The retailer's building was one of the few in the area that survived the 1906 earthquake.
And finally below is an American Austin coupe being used as an advertisement and for a service car at "Jim" Pendergast's and "Jerry" Donavan's a Flying A Service Station located in the City at Portola Drive and Teresita Boulevard. The Austin is decked out with a custom made sign on the roof, a Flying A decal on the door, a radiator cap mascot, and an oversized accessory horn. The images are from Vintage San Francisco and were found via contributor Jennifer Strong.