Updated Mystery Solved – The 16th Street Speedway in Indianapolis, Indiana, located across the street from turn two of the Indianapolis Motor Speedway first opened with a midget race held May 29, 1946, on the eve of the big 500-mile race. In the early 1950s stock cars or "Jalopies" as they were referred to at the time also began running on the track.
This "Doodle Bug" apparently was partly custom built for use as a pace car for racing at the 16th Street track. The lead photo shows Ernie Wall and supporter, Mrs. Forney pacing the women's Powder Puff Derby in the "Doodle Bug." The second photo below is of Wall and promoter Mr. Bradley in the car during the 1st "Jalopy" heat race at the track on August 10, 1956.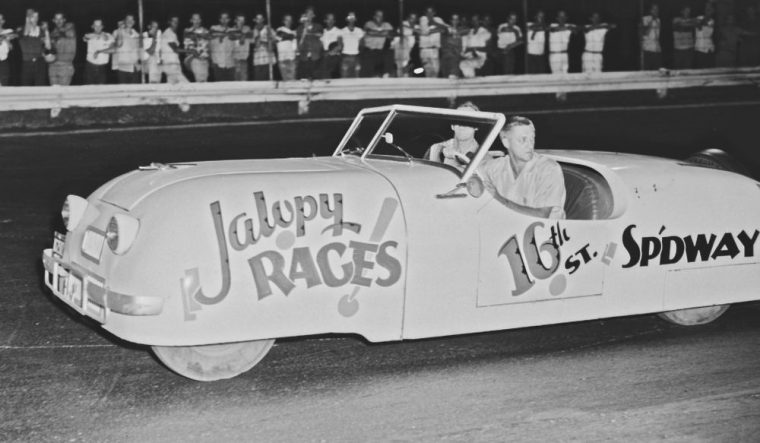 These images lead to the question of who constructed this vehicle? It shares the same basic shape as the Kurtis Sports Car which was built by racing car constructor Frank Kurtis in Glendale, CA. That car was followed by the "Muntz Jet" which Kurtis designed and produced for Earl "Madman" Muntz, who later manufactured and sold about one hundred and ninety of the cars. Could this car have been custom made for the Speedway by Kurtis where many of his midget racers ran, or is it a re-bodied "Muntz Jet" constructed by a racing car body builder?
The images taken by photographer C. V. Haschel are courtesy of the Revs Institute for Automotive Research and are a part of the Bruce R. Craig Photograph Collection.
Update – Steve Lovellette commented:  My father, Hyson P. Lovellette, constructed this car in his garage when we lived at 6402 Homestead Dr. in Homecroft, IN.