This press photo was a dream come true at the time for any new car dealer because of all the resulting free publicity in the newspaper and on posters. In this case, the Packard Seattle Company was fortunate to get the attention that may have led to a few sales. The Packard appears to be a 1928 443 "Custom Eight" club sedan, with attractive close-coupled coachwork that ends just behind the rear axle.
The Packard's L-head straight eight-cylinder engine has nine main bearings and with a 3.5″ x 5″ bore and stroke the 384.8 c.i. engine produced 109 h.p. It is backed up by a dual-plate dry-clutch and a three-speed gearbox. Earlier coverage of this model at Packard on Land, Sea and Air Worldwide covers the mechanical details of the Company's cars, and airplane and boat engines. Fourth Series 1928 Packard 443 Sales Artwork shows colored drawings of most of the standard coachwork offered by the automaker, the club sedan highlighted below is an example of that coverage.
The lead image is courtesy of the Seattle Public Library and the colored plate below is from the Roderic Blood Collection and is courtesy of the Larz Anderson Auto Museum.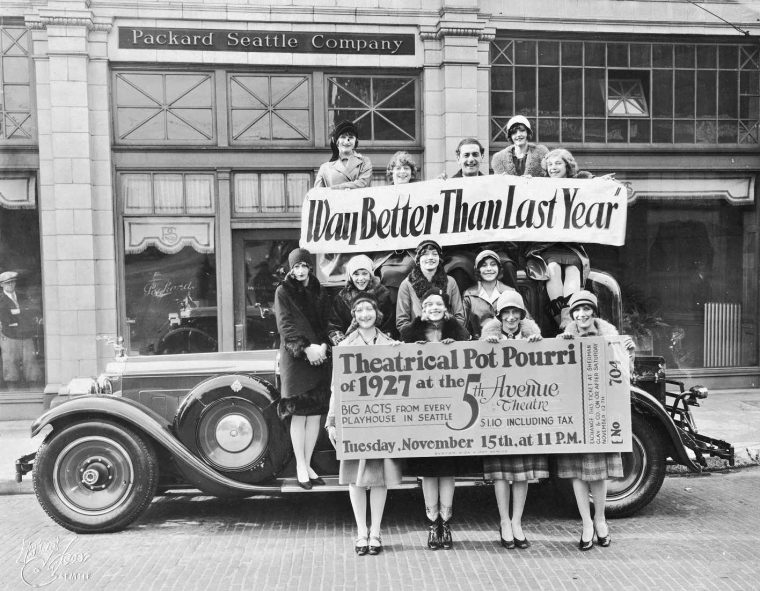 Above and below the 1928 443 "Custom Eight" club sedan.