The Glasscock Speedster is the second in a series of older posts that we are taking a second look at because of new information about it from Barry Keating. Tim Martin posted the photos and the original text about it in April of 2011: "This custom Packard speedster is a 6th series (1929) creation known as the Thompson Special, and also as the Glasscock Speedster, named for its owner Major Glasscock (presumably the driver). Thompson was a custom body maker in California. Woodlites add to the futuristic look".
Three years later in 2014, Barry Keating posted the following information here after a performing a considerable amount of research:
"All the misinformation floating around the internet about this Speedster made me want to find out the story behind it, and I believe I've have pieced together the true story about this car. It appears more than likely it was a custom order placed by Lt. John Glasscock from the D.E. McDaneld Inc. a Packard dealership located in Pasadena, California, and built on a 1929 Packard Speedster chassis".
"An article was found about Speedsters that contains a photo of the car with the owner sitting behind the wheel and notes that the man is Lt. J. R. Glasscock and the body was designed by the Thompson Auto Body Co. of Los Angeles, CA, and presumably built by them".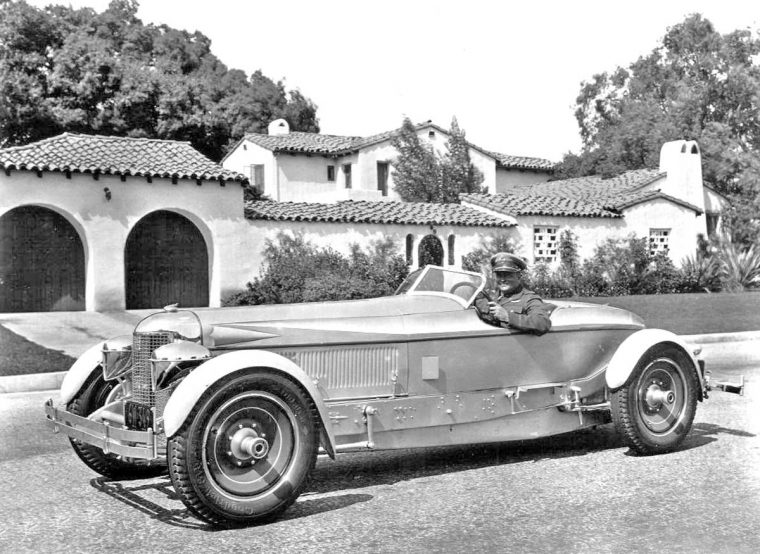 "These images of the car are from a series of photos taken of the Speedster on the same day in 1929. Two have the Lt. behind the wheel, and if you study them, there is no doubt the Speedster is showroom new and wears 1929 California license plate 6W349. Research revealed that the house in the background which has survived was owned by Donald McDaneld and wife Margaret, and located at 589 Winston Avenue in San Marino, CA and that Donald was the owner of the D.E. McDaneld, Inc. Packard dealership, 1095 E. Colorado Boulevard, Pasadena, CA".
"It is not much of a stretch to think that the Speedster was ordered though McDaneld Dealership. The Speedster definitely brought Glasscock and McDaneld together but it also might have been the love of airplanes. Lt. Glasscock was in the Aircorps and McDaneld was a pilot, owning four planes and President of the National Aeronautic Association".
After conducting further research recently the only new information found is an article at "Coachbuilt.com" containing more information about the Thompson Auto Body Co. of Los Angeles. It originated as the body shop for the infamous George R. Bentel who owned the original Ascot Racetrack in Los Angeles and was the distributor for a number of high-quality automobiles in the City. He began building custom bodies for some of these cars after learning of the success of Conover T. Silver in New York City constructing skiff bodies on some of the cars his firm sold. Learn more of the interesting story about the Body Shop at Coachbuilt.com.