The early-1960s lead image in today's feature is a postcard from "Jimmy's" Gas Station and Dinner located at 150 Minot Avenue in Auburn, Maine near Exit 12 of the Maine Turnpike. According to Dinner Hunter, the gasoline station was opened in 1928 by James LaRue and "Jimmy's Diner" followed later, possibly as early as 1934. LaRue built another dinner and five other gasoline stations at a later time. The filling station at this location apparently was open until the 1980s, but by then the Dinner had closed although both buildings were still standing as late as 2011. The postcard is via Filler Up.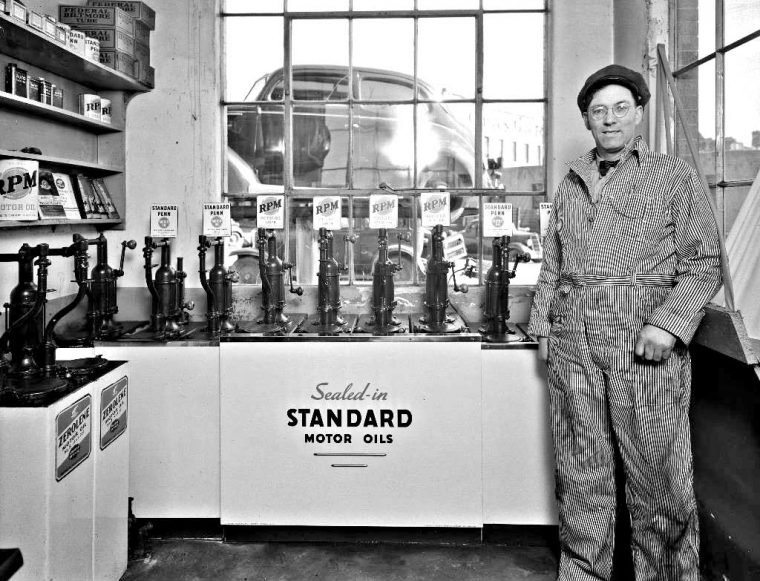 This image shows new Standard Oil Company motor oil dispensers installed at a filling station and repair garage in the late-1930s. Multigrade oils were not available at the time, so the cabinet behind the attendant contains four separate containers and pumps for different SAE viscositys of RPM and Standard Penn motor oils.
On the far-left are a pair of dispensers for Zerolene motor oil, also produced by Standard, it would flow at zero degrees fahrenheit and allowed for easier cold weather starting and operation. The image is courtesy of Jeremy Gilmore via Petroliana
And finally below is a view of Route 40 passing through Vernal, Utah, a small town both then and now which is located in the northeastern portion of the State. On the far-right of the image is the Streamline Moderne styled facility of Utah Motor with five gasoline pumps out front for "Powerine" gasoline. The operation also either sold or specialized in the repair of Dodge and Plymouth cars and trucks. The photograph courtesy of Russell Stephen Rein via Filler Up.
View over 220 other gasoline stations in earlier posts here at The Old Motor.