Today's lead photo colorized by Imbued With Hues shows, famous actor, singer and comedian Al Jolson in San Francisco, CA with a 1926 to '27 Cadillac Model 314 touring car equipped with a second windshield for the rear seat passengers. This new model with body by Fisher is powered by a recently developed 314 c.i. 90-degree V-8 engine backed up by a three-speed transmission in a 132-inch long wheelbase chassis with mechanical brakes.
The enlargeable image below shows Jolson and the car in detail.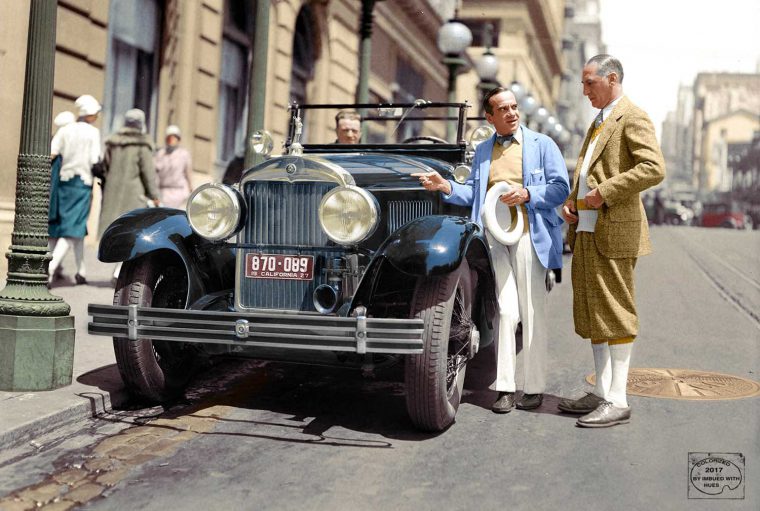 The 1927 LaSalle five-passenger "Family Sedan" with body by Fisher below is in a setting in complete contrast to the lead photo – in front of a Kelly Springfield tire shop being fitted with a set of tire chains. The newly introduced car was styled by Harley J. Earl and this one is on the shorter 125-inch long wheelbase chassis equipped with mechanical brakes. This stylish car featured a new 303 c.i. L-head 90-degree V-8 engine, and three-speed transmission. The chassis was basically a scaled down version of the Cadillac.
Learn all about the new offering at The Harley J. Earl Story Part IV – The Attractive New LaSalle and at Amazing Performance: 1927 LaSalle Runs 951 Miles at 95.2 MPH.
View more of Patty Allison's fine work at Imbued with Hues and here on The Old Motor.