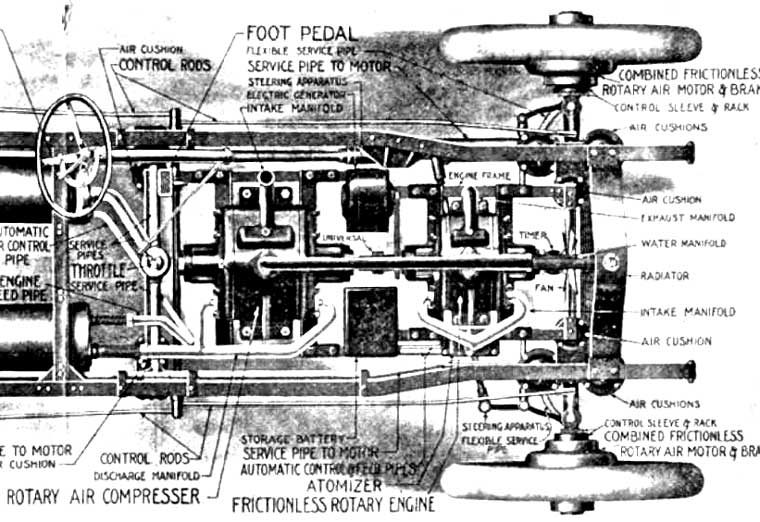 Updated – This Airmobile flyer was posted here courtesy of Tom Jakeway over six years ago, and no one has come forth with any additional information about it; hopefully this time around someone will know more about it and possibly have a photo of a chassis or car if in fact one was actually built?
The Airmobile used a "frictionless rotary engine fueled by crude oil" to power a "rotary air compressor" located behind it. Air pressure was stored in a pair of tanks and routed through a throttle to an air motor at each wheel. According to Tom Jakeway, no one has uncovered photos or more information about this car other than an advertisement in the program for the Santa Monica Road Races and a few other places, the effort then disappeared into thin air…. By 1915 the Rotary Air Brake Company was promoting an air-steam-gas-water engine that is known to have been produced.
The company's name was changed to the Rotary Products Company and in 1920 they began manufacturing air driven machinery for industry.
Update from Steve Bogdan below.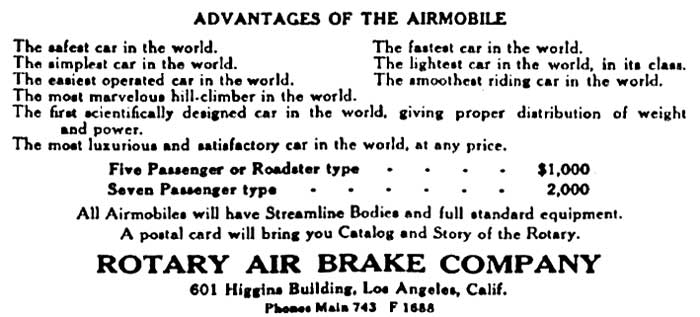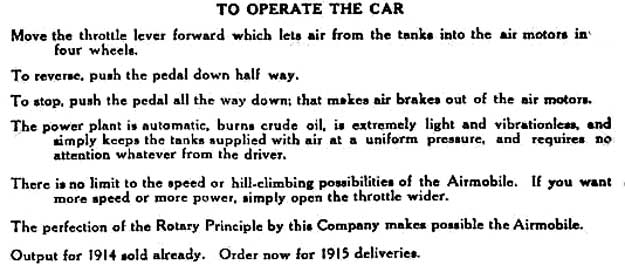 Update by Steve Bogdan: Combing through the digital newspapers, journals, and histories on the internet has yielded some further information, albeit begrudgingly. However, there are still huge gaps in the record that, hopefully, further research will fill.
The Rotary Air Brake Company reported to have been incorporated in Phoenix, Arizona around the spring of 1911 with a capital of $1,000,000 by A. E. Stevens and H. C. Steele "and others." Head offices were to be in Phoenix. Stevens may or may not have been the A. E. Stevens who patented a rotary air engine in 1906. Or, given the accuracy of name reporting at the time, it very well may have been A. T. Stedman, or A. F. Stedman, or A. T. Steadman – again, depending on which newspaper was reporting. For the record, A. T. Stedman was a former newspaper writer from New York who was reported as being the General Manager of the Rotary Air Brake Company in 1914.
In the fall of 1911 the Rotary Air Brake Company was operating in Los Angeles with attorney and self-taught engineer Ernest Durrell Foster serving as President (and apparently main financier); Charles R. Harris, an inventor with dozens—if not hundreds of patents to his name, serving as Vice President; and H. C. Steele of the Phoenix incorporation serving as Secretary.
The most important player seems to be to have been C. R. Harris, who made a fortune manufacturing suspender clips of his own design. He was the engineering designer of the Temple Auditorium theater in Los Angeles—which opened in 1906 and was the first reinforced concrete building in Los Angeles, the largest in the state, and the largest theater west of Chicago. Harris, together with fellow engineer Rutherford G. Goldman (who as an artillery artificer in the Spanish-American War, earned a medal for heroism), applied for a patent for a rotary fluid-brake on September 28, 1911 (patent application renewed on July 1, 1914, and actual patent—1127237—granted on February 2, 1915). At that time they were demonstrating it at the Anaheim Carnival. The Saturday after the carnival they were exhibiting "The Wonder of the Mechanical Age" at J. R. Dean's sewing machine shop Santa Ana, after having taken out a sizable ad in the local paper. A news blurb on the front page of that same issue noted that "The rotary brake is a distinct advance in its line, and is adaptable to automobiles, trucks, hoists and elevators among other things. Frictionless, automatic and self-acting, with a pressure of 1800 pounds on the two rear wheels, this brake should prove an invaluable item of automotive equipment."
In January of 1912 the company was advertising for sale (for cash only) two fully-loaded chain-drive REOs—one a touring car and one a runabout—that had been used by their sales department. It took them over two months to unload them. In April the Rotary Air Brake was being shown at the Robuck Cyclery, the Indian motorcycle dealer in San Bernardino. By mid-month the company was advertising that their stock offering would soon jump from $1 a share to $2 due to royalty contracts then under negotiation. [So far I have found only one Canadian company to have signed a contract to build under license.] A month later the stock was still selling for $1 a share at one brokerage firm, while a block down Main Street another was offering it for 90 cents. One disgruntled purchaser of 15,000 shares and his wife complained that it had no value and they filed suit in Superior Court in San Jose "demanding the reconvayance of orchard property in this county worth $8000, which they allege they were induced to deed to the company by Inez Stradler, agent for the company, by fraudulent misrepresentation of the value of the stock." [No further information was found.] Throughout the year other private holders were offering anywhere between 100 and 1,500 shares of their stock for sale.
On April 23, 1913 Harris and Goldman applied for a patent on a rotary fluid-clutch—granted on Mar 7, 1916 (1174853). Also in the spring of 1913 some brokerage houses were offering RAB stock at 90 cents while others had orders to buy. In July it was noted that Edward W. Cowles was the Sales Manger, and in Modesto, CA on business for his company. He made a return trip to Modesto in August.
1914 started off with a flourish. The Rotary Air Brake Company had a booth at the January Los Angeles Auto show—the first auto show held in LA in three years. About eleven booths down from the RAB exhibit was the exhibit for the Savage Tire Company, with a display featuring a wigwam made of tires and Indian blankets. Indian blankets lay about filled with crude rubber "as shipped" from the rubber plantations. At the entrance to the wigwam was an Indian sitting stoically—a Savage guarding the Savage tire, as it was related in the press. President Arthur W. Savage himself, along with Vice-President John D. Spreckels (who later took control of the company) manned the booth on occasion, during their two day visit from San Diego. More importantly, race car driver Teddy Tetzlaff was in the booth to tell all about racing on Savage tires.
Tetzlaff must have have been intrigued by the Rotary Air Brake booth, because on January 18 the "Los Angeles Times" announced in their Sunday Auto section that Tetzlaff would be using the RAB friction-less rotary air brake on the Fiat 90 that he would be driving in the Vanderbilt trophy event in Santa Monica in February. The paper noted that:
"Tetzlaff witnessed a demonstration of the brake on a thirty-horse-power car, and was at once convinced that braking on cushions of air, instead of friction, would mean a vast saving on his tires, and everybody admits that this event will depend to a large degree on tires.
"The rotary air brake will not slide or skid a wheel—in other words, it is impossible to lock the wheel with this brake, but the momentum is equalized in much less time than it would be with a friction brake.
"The perfection of the rotary principle by this company has made possible this type of brake, working on atmospheric pressure, requiring no tanks or outside ·apparatus of any kind.
"Many Eastern manufacturers are already interesting themselves in this brake and the principle has been successfully demonstrated as a compressor, clutch, air brake and engine, and the combination of these will be used in building a four-wheel air-drive car, called the Airmobile.
"The company expects to start a factory in the next thirty days in Los Angeles for the building of airmobiles, engines and compressors. Deliveries are promised by June and within the year the company plans to build an immense eastern plant. It is claimed that this principle will revolutionize all forms of manufacturing."
Interestingly, while the drawing and copy about the Airmobile found above is from the 1914 Vanderbilt Cup Race in Santa Monica, Tetzlaff did not enter that event. He did however, race in the 1914 American Grand Prize event (the third race of the 1914 Grand Prix season) held on the same track two days later. After several tire changes he dropped out due to a broken connecting rod guide. There were no reports concerning the existence—let alone performance—of the rotary air brakes.
The day before the LA Times announcement, A. T. Stedman (General Manager) and H. C. Steele (Secretary) were reported in Anaheim, again demonstrating the air-brake. While there, they signed C. L. and J. Leslie Swope as factory reps for Orange County, CA. The Swope brothers (owners of the California Wine Company in Anaheim, a liquor suppler) were trying to induce RAB to build their factory in Anaheim.
On February 1, in an effort to raise capital, the Rotary Air Brake Company announced that they were selling 4,000 shares of common, and 4,000 shares of preferred Southwestern States Lumber Company stock held by RAB because: "We are manufacturers and we wish to turn this stock into cash or factory site. [That stock earned 20 percent in 1912.]
Eight ads down in the same classified ad column, the company announced "The Rotary Air Brake Company hereby serves notice upon the people of Los Angeles and Southern California that it has no more stock for sale. It is now negotiating for a factory site and will immediately erect a factory and start in the manufacture of its standardized engines, compressors, clutches, brakes, motors and airmobiles. Rotary Air Brake Company, 601 Higgins Bldg., Los Angeles, Cal. Main 743"
By mid-June RAB's own stock was being offered by a broker for 60 cents, and by another for 37 1/2 cents per share. By mid-December it was going for 55 cents.
Two significant things occurred for RAB in 1915, the first being the name change from Rotary Air Brake Company to Rotary Products Company. The first notice I've found for this comes from the May 16 classified ad in the LA Times that offered blocks of 5 to 500 shares of Rotary Products at 55 cents a share. This was offered by the company's usual broker, H. N. Willard & Co. on South Spring Street.
This was followed up on May 23 by a news item that appeared in papers throughout the state which read, still using the old name, "Rotary Air Brake Company, Los Angeles, has been granted an amended temporary permit for the sale of 25,000 shares of its capital stock (par value $1) at the price of $2 per share, to net the company not less than 80 per cent of the selling price."
The most noteworthy event however, was the introduction of a non-air, non-rotary item to their product line. Starting with an ad placed on October 24, the Rotary Products Company (now at 1013-1015 South Los Angeles Street) began offering "Divergos" which were aftermarket glare deflectors for headlights [no patent found to date]. Cities and states throughout the country were enacting legislation banning overly bright headlights and the resulting glare—California's own law would go into effect on January 1, 1916. In the era before dimmer switches and dual-filament bulbs, dozens of devices were being rushed to market. The Divergo was designed to be adjustable from the driver's seat, and allow him to control the movable blades to direct the light beam. The blades were tapered so that they would not shut off all light like a window shutter.
The ad noted that Dirvegos could be seen at Hamburger's [a department store] exhibit at the Broadway Automobile and Flower Show. Dirvergos were only sold through dealers, but if you bought a set and brought them to the factory, Rotary Products would install them for you. That offer proved popular enough for the factory to extend the cutoff date. In December a second, non-adjustable version was added, with a set-it-and-forget-it blade angle fixed to throw the light from 25 to 300 feet in the front of the car.
The rotary business wasn't dead however, as two days later the paper, while reporting that the company was doubling their output of Divergos, they had new equipment coming that would "greatly extend their engine and compressor output to meet the growing demand for their products." Another article on November 21 announced that "An engine that is practically frictionless, that runs effectively with compressed air, steam, gas of water pressure, that works equally well as a creator or transmitter of energy and which, on top of everything else, is a first-class air brake, is somewhat of a strain on the imagination, but Los Angeles inventors claim to have perfected just such a mechanism. The article went on to note that several engines had been completed and were being exhibited at the factory. $50,000 worth of special machinery was to be installed within 30 days and production would begin shortly thereafter.
The article also added another name—Graham—to the history of the company when it related "The company was organized four years ago by a number of local engineers, including E. D. Foster, C. R. Harris, O. B. Graham and R. C. Goldman, together with a number of business men. The organizers had no patents to start with, but were determined to study and experiment along the lines of what is known as the "rotary" principle of mechanics until they had evolved something original and worth while. More than a year was spent in this way before patents were applied for. Two more years elapsed before the company was ready to demonstrate its new theories with completed engines."
On December 5, 1915 the LA Times featured Charles R. Harris on the front page of the City Section of the Sunday paper. It profiled him and his latest invention—an electric gun that would send "Powerful electric currents riding the focused aero-waves of the wireless, [that] will repel the fleet invasions and annihilate the armies of the future, making the United States absolutely impregnable." Harris, whom the paper noted was a "consulting engineer of national note and perfector of this and more than 200 other inventions," claimed to have successfully demonstrated the weapon near the city the week before. If mounted on a tower 266 feet high or more, it supposedly would hit a ship rounding Catalina Island 26 miles out at sea. While this has nothing to do with the subject, the rotary products and company were mentioned further down in the article.
In February 1916 the old RAB stock was selling for 30 cents a share, while the new RP stock was being offered at 42 1/2 cents a share. By April the respective shares had fallen to 16 cents each for a block of 250 RAB shares, and 17 1/2 cents for RP.
On May 28 RP placed a rather lengthy classified ad in the Stocks And Bonds section (Part IV, page 10) touting the virtues of purchasing RP stock. Too lengthy to repeat here, but it starts out "You people who have made money in mining stocks had better be putting some of your profits into a permanent stable industry." Nearly all of the top people in RP were themselves heavily involved in mining and owners of mining stock.
Later in the year RP began running a larger ad in the business pages which read "The best investment in the world today is Rotary Products Company stock; investigate. Call at factory, 1015 S. Los Angeles St., or Telephone Main 743, or F1688 for proof.
The closeout for the year comes as a bit of a shock—the December 25, 1916 issue of "The Automobile Journal" published a section titled "Novel Power Plants" (page 21) in which the following appeared on page 26:
"Features of the New Airmobile.
"THE Rotary Products Company, Los Angeles, Cal., has adapted the rotary principle of generating power from gasoline and storing It as compressed air by driving an air compressor, designed on lines similar to the engine, and In turn piping the air to rotary air motors attached to each of the four wheels. This Is probably the most unique Idea In motor car propulsion that has been presented this year.
"Its practicability rested with the perfection of the rotary principle which Involved largely the question of maintaining the necessary pressures In the explosive chambers which heretofore has been impossible because of leakage. The maker of this motor, however, claims that leakage has been negatived and that the engine can be run at low speed and produce high pressures, whereas formerly rotary engines were run at high speed and only produced low pressures.
"A further and Interesting fact about the mechanism Is that It Is applicable not only as a rotary gasoline engine, but as an efficient air compressor, an air motor or can be adapted as a clutch or brake. The rotary engine is used to drive a rotary air compressor, both machines being hung on cross members in the forward part of the chassis. The air Is stored In tanks and piped to the four wheels, which are operated by individual air motors, or as brakes.
"By this method of generating and transmitting the power the maker claims to have obtained not only a frictionless drive, but to have eliminated crank and camshafts, flywheel, clutch, transmission, levers and friction brakes; reduced weight and cost of construction and incidentally have adapted a set of air cushions which supplement the springs and reduce the vibration to a minimum."
On the bottom pf page 23 it even had a drawing of the chassis identical to the drawing that appeared in the 1914 Vanderbilt Race program. Further, the title drawing that leads off the "Novel Power Plants" section, showing various power plants, was taken directly from that same drawing. And finally, in the magazine's alphabetically listed "Cars for 1917 and Addresses of the Makers" section, "AIRMOBILE, Rotary Products Co., Los Angeles, Cal." is the second listing, behind Abbott-Detroit.
As near as I can tell, this was the last hurrah for the Airmobile. And even as this article appeared, Teddy Tetzlaff had long left his Rotary Air Brake equipped Fiat behind, and had spent the summer campaigning a Milac racing car—Milac standing for Made In Los Angeles California. But that's another story for another day.
1917 seemed a quiet year for RP, with very few mentions in the press. The "Automobile Trade Directory" listed Rotary Products as the manufacturer of Divergo, while the "Chilton Automobile Directory" listed the company under "Pumps & Air Compressors, (Garage)" while giving no mention to Divergo.
Personnel mentioned shows that a John McK. Ballou, who had been the Chief Engineer for Rotary Products since 1916, left to take over the same position at California Aviation Company, while well respected Santa Barbara County Horticultural Commissioner C. W. Beers resigned in December to become the "Third Vice-President and Office Manager of the Rotary Products Company of Los Angeles, holding air compressor patents recognized internationally. Great expansion of operations is planned at Los Angeles; also a subsidiary plant at New York City."
They advertised for an expert stenographer and bookkeeper in July. Hours were 8:30 a.m. to 5:30 p.m. and i paid $15 a week to start, but you had to show up on a Sunday morning for an interview. Stock trading was slacking off, and in the spring it was going for 20 cents a share.
1918 came and went with no found mention of the Airmobile or Divergos that I could find, or any of the air products for that matter. There was a classified ad however, placed in two different sections of the July 28 Sunday LA Times—one in the "Machinery, All Kinds – For Sale, Exchange, Wanted" section, and one in the "Business Announcements – Miscellaneous" section—that read "Work by the hour or by contract. We have a complete machine shop and can take in outside work. Let us build that machine for you or develop your patent, of do your repair work. Best equipped shop in the Southwest for jig and die work. "
The only activity found for 1919 was a court case where someone stole a check intended for H. C. Steele, and used it to by Liberty Bonds form Woollacott & Co.—who somehow knew that the check had not come from Steele. An arrest followed.
In 1920 the only mention that I found was from H. N. Willard & Co., who advertised four times in April that they would buy RP stock.
I thought that I had something from 1921, but I can't find it now. What I also cannot find is anything to support Tom Jakeway's notation that "in 1920 they began manufacturing air driven machinery for industry." Obviously I'm missing something. Tom, could you point me in the right direction?
As an aside, the October 30, 1930 issue of "The Mining Journal" had a feature on Ernest D. Foster that stated—with no substantiation—"He organized and financed the Rotary Products Company, to perfect rotary machinery, and was doing well when the war came on and his special machinery and tools were needed by some firm in the Emergency Ship Division."
I realize that this does not give us any more information about the car, but at least we know a bit more about the company.