Updated – Three years ago we featured the Universal Newsreel film on a video below that is incorrectly identified as a Stout Scarab. Historian Robert Cunningham identified the car at the time as being built by Allyn Streur and Allen Hoppe, of Hollywood, California.
Apparently late-1920s lightweight production car components were used in the construction of the chassis. The framework for the body appears to have been built by the pair, who may have worked in the aircraft industry located in and around the Los Angeles area.
Last week Bill McGuire the Editor of Macs Motor City posted this press photo of Streur and Hoppe posing in the car at Motorology which was also released in the first week of February of 1935 as the film was and published in newspapers across the country.
No other information or photographs of the car have turned up in the last three years which once again brings this car back to light and leaves us wondering again if it was ever completed? Do any of our readers know of a source for more information about the car, the builders, or its fate?
Take a few moments to watch the amazingly clear footage above of the car traveling down one the palm tree-lined boulevards in the Los Angeles area, along with other cars, some that date to the mid-1930s. The news clip is courtesy of Critical Past, which has one of the largest archival film and still images collections in the world.
Update Below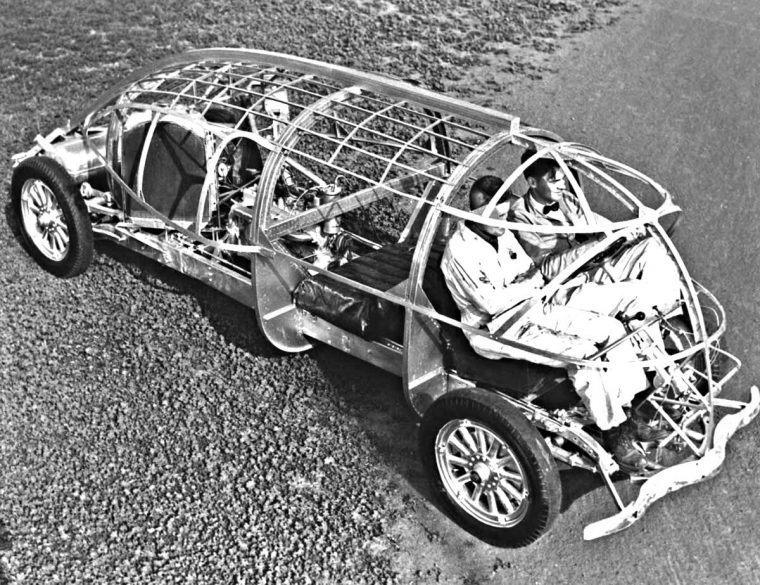 Update – Thanks go out to reader and expert researcher Tin Indian, who found an article and photo of it below in the March 1937 issue of the "Consolidator", the "News on Consolidated Aircraft San Diego" that was published by Consolidator Aircraft employees. It shows the finished body along with a description of how it was constructed.