The Type 35 Mercer "Raceabout" designed by Finley Robinson Porter first came on the scene in 1911; the small and lightweight car was based on an excellent-handling 108 w.b. chassis powered by a 300 c.i. four-cylinder T-head engine producing 60 b.h.p. This new car won a number of AAA races between 1911 to 1912. However, at that time, the writing was on the wall that the Mercer needed a larger and more powerful engine to remain competitive and Porter went back to the drawing board to create one.
The result was an all new 450 c.i. four-cylinder T-head engine with a 4.8 x 6.3-inch bore and stroke that developed 150 b.h.p. and was set back in a standard "Raceabout" chassis that featured a new Brown and Lipe four-speed transmission, and new body work. The updated machine first appeared in 1913 at Indianapolis for the 500-mile race.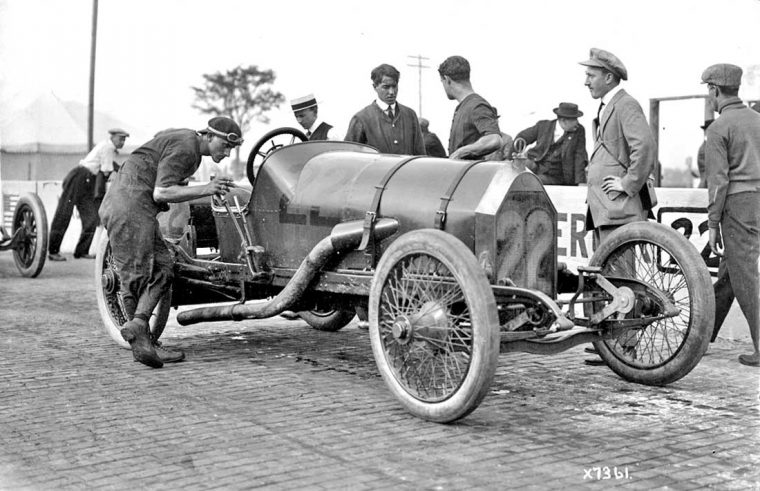 Wishart talking with one of the Mercer team mechanics before practice for the 1913 Indianapolis 500-mile race. Photos courtesy of the Detroit Public Library.
Spenser Wishart was a young, skilled, and very fast driver who initially got his start in racing in behind the wheel of a 1908 Mercedes racing car his father George Wishart, a millionaire Wall Street financier, purchased for him. The quick study finished fourth at Indianapolis in the first 500-mile race held in 1911.
In 1912 Wishart became a member of the Mercer racing team, and in 1913 finished second in the 500-mile classic, after being outclassed by a DOHC Peugeot driven by Jules Goux. Wishart died at the wheel of his Mercer at the 1914 Elgin Road Race after going off of the course and hitting a tree while leading the race.
Learn all about the legendary Mercer "Raceabout" in earlier coverage here on The Old Motor.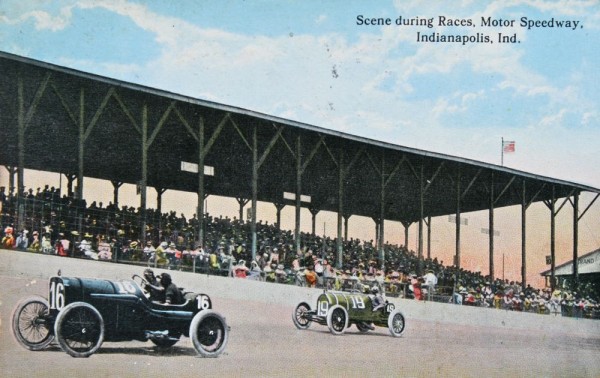 A colorized postcard photo taken at the 1913 Indianapolis race, shows winner Jules Goux in his number sixteen Peugeot; following him is Caleb Bragg, a teammate of Wishart in his Mercer 450, he went out on the lap 128 after a pump shaft failure. The Old Motor image.