Today's post-World War II automobile and truck photographs start out at the Swearingen-Armstrong Ford Car and Truck Agency located in Austin, Texas at 202 West 1st Street. The lead image and an expandable version of it below show used 1946 to '48 Ford cars, and a Mercury convertible displayed under a canopy off to the side of the main sales and service building.
At the time there was a very strong demand for both new and used cars and trucks to replace the worn out and used up pre-war vehicles that had survived the War years. It was also a good time to be in the new cars sales business if a dealership was able to get a large enough supply of automobiles to meet the market's need.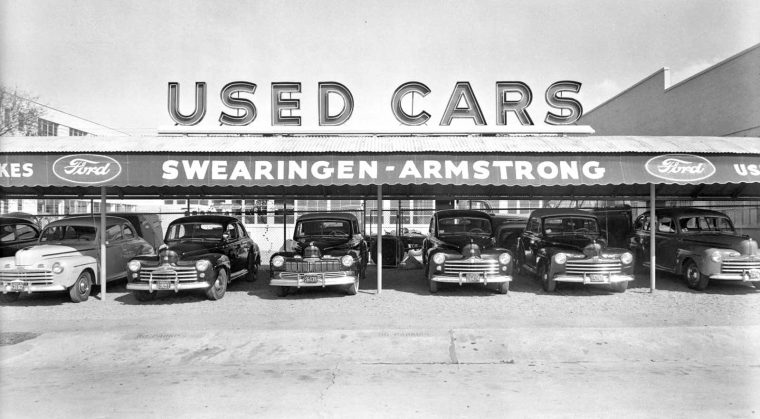 The photograph below dated 1951 gives a view of a facelift given to the building's facade and signage done in the late-1940s or early-1950s. The image shoes a glimpse of three new Ford cars in the showroom and a line-up of heavy duty trucks in front of it. On the far-left is a 1951 model coming out of the service department and to its left what appears to be a new Ford pickup truck.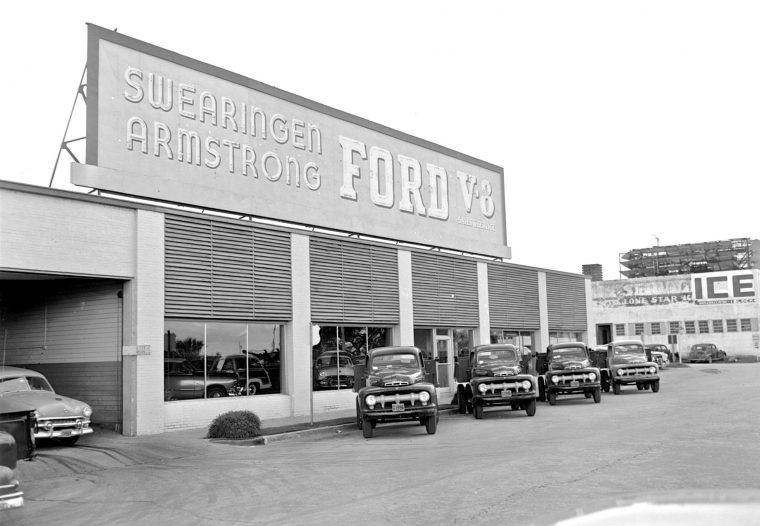 And finally below is a view of the Cross-Allen Company auto parts supply building dated February 14, 1946. The facility was also in the City of Austin at 209 to 211 East 5th street according to the City's Historic Landmark Commission.
The parts business was purchased by John D. Grubbs and his wife Elsie B. Grupps in 1937, and they owned it up through the fifties when the pair also purchased and operated a Texaco filling station in 1951 and Conoco station later in 1963.
The photograph shows a variety of pre-war cars out front, the oldest being either a 1928 to '29 Model "A" Ford convertible coupe that is next to a 1929 or '30 Chevrolet coupe on the far-left next to an Airflow.
Tell us what you find of interest in these images taken by photographer Neil Douglass that are courtesy of The Portal to Texas History.