Today's feature follows last week's post showing photographs of autoworkers performing various tasks on automobile assembly lines. This installment begins with a circa 1950 image of two men in a pit below the line tightening the bolts that attach the bumper irons to the frame on a DeSoto. The note the wooden fixtures with metal bottom edges and dissimilar metal, rubber, or leather top ends that support the bumper to keep it at the correct height while the bolts are being tightened.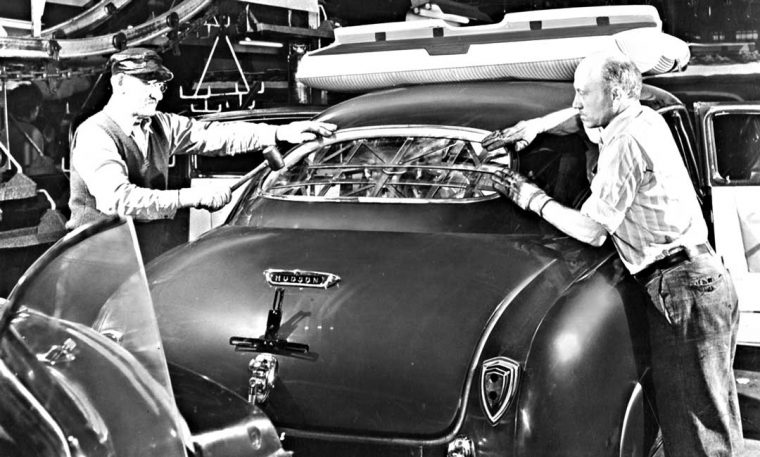 The circa 1948 image above shows two men on the outside of the car and another man on the inside of it behind an assembly fixture installing the rear window along with a rubber gasket, and stainless steel outer trim molding. The car appears to be a Hudson Super Six featuring a new and revolutionary body design. Learn more about the unique post-war Hudson step-down model here.
And finally below from a different era is a view of a man operating an eight-gang machine that reground the valves and seats on a 1910s Chalmers four-cylinder engine before final assembly. A note with the photo stated the engine had been test run earlier (note the used head gasket hanging from the lower side of the engine).
You can view earlier assembly line photos here on The Old Motor. The images are courtesy of the Detroit Public Library.