Ralph Mulford was a "stand on the gas" kind of guy, who after his racing days were over, turned to setting new speed, twenty-four hour, and hill climb records for auto manufacturers. The lead image above and the enlargeable version below shows Mulford with Edsel Ford and his wife Eleanor Clay Ford standing on the running board behind him with her uncle J.L. Hudson in the car, and officials with the sleek 1916 Hudson "Super Six" racing car at Daytona Beach.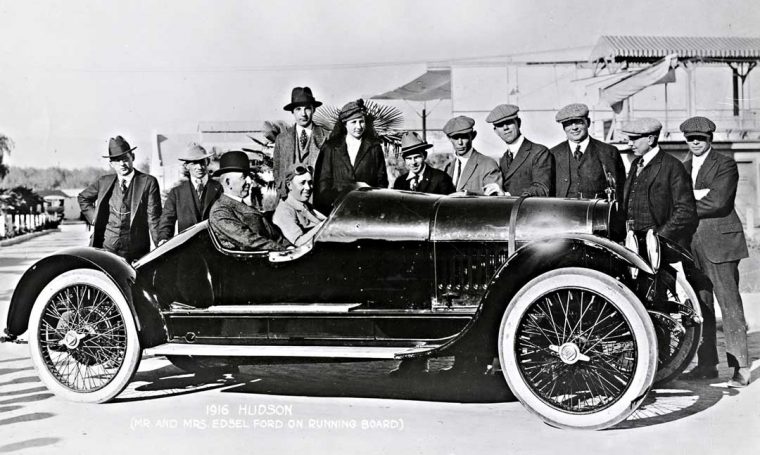 On the hard-packed Florida sand, Mulford set a speed with the car of 102.5 mph for the mile in only 35.11 seconds on April 10, 1916. Only three weeks later on May 2, 1916, at the Sheepshead Bay Board Track just outside of New York City, he set a new twenty-four-hour distance record after traveling 1,819 miles at an average speed of 76 m.p.h. The "New York Times" reported he even paused during fuel and oil stops every 150 miles "for a few sandwiches and several cups of coffee."
Learn more about Ralph Mulford's racing and record-setting career here at The Old Motor.
The newly introduced "Super Six" 288.6 c.i.d. L-head inline engine produced 77 h.p. at 2500 rpm, and the patent application drawings below show two of the reasons for the engine's exceptional performance. Engineer S.I. Feteke designed a set of four bolt on counter weights that smoothed out the Hudson's engine and helped to reduce destructive torsional vibration inherent in straight six engines.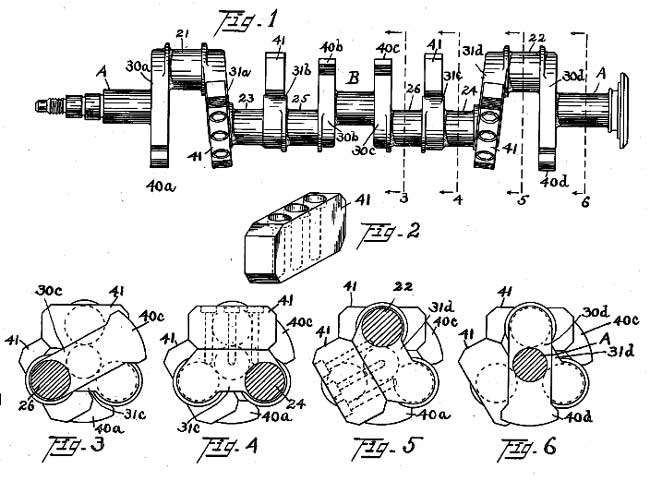 The second improvement shown in the drawing below was the use of a lightweight cup cam follower with a  mushroom-shape just below the valve spring. This design eliminated a heavier valve lifter and adjustment arrangement and allowed the engine to revolve at a higher speed without valve float.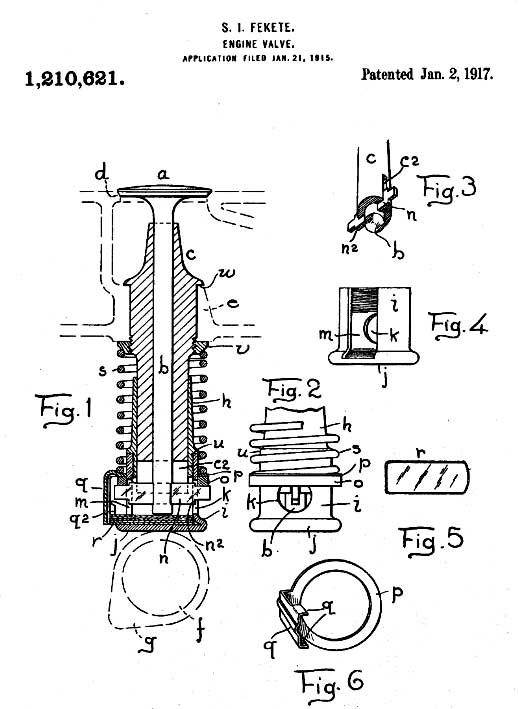 "The Automobile" May 3, 1916, issue below contained this ad by Hudson published the day after the New York record run at Sheepshead Bay.