We are back once again at the Pinehurst County Club with the final pair of photographs in this series. The lead image and the enlargeable version of it below show a father and his two young daughters with an L29 Cord convertible coupe. The handsome-looking car was produced by the Cord Corporation between 1929 to '32 and is generally considered to be the first production front-wheel drive car to be built in the US.
This example is equipped with a pair of attractive Woodlite headlights manufactured in Los Angeles, CA, that throw a beam of light further than conventional lamps of the period. View more photos and learn more about the L29 Cord here on The Old Motor.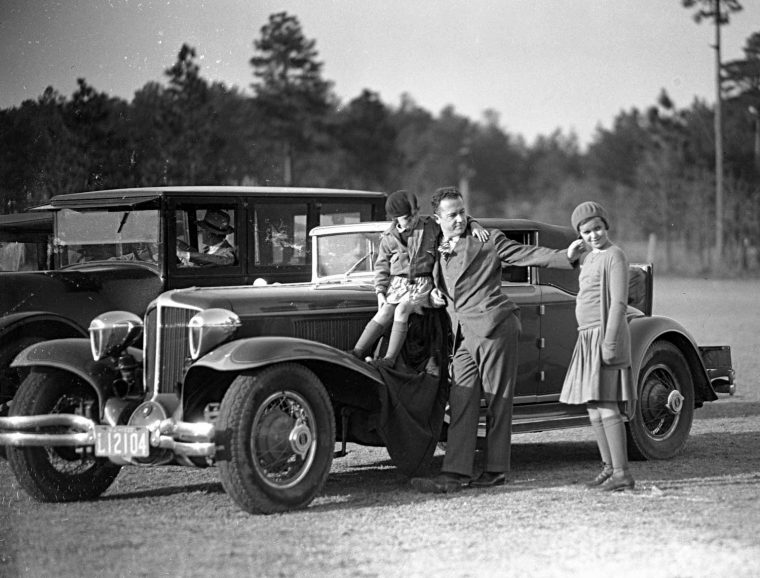 Today's second classic car image at Pinehurst below was not from the Polo Match but was taken a few years earlier. It is a Packard 443 Custom Eight phaeton fitted with a shorter than standard windshield, and a cape top.
This model was also known as the fourth series and is based on a long 143-inch w.b. chassis. The L-head eight-cylinder 384.8 c.i. engine with a 3.5 x 5-inch bore and stroke and nine main bearings produced 109 h.p. It was backed up by a dual-plate dry clutch and a three-speed gearbox. The 443 was the last Packard to use drum style headlights.
View all the earlier parts of the Pinehurst Series here.