Today's lead image and other versions below shows a view of the "Dixie Bee" Garage which sold Polar Bear and Sho-Me Gasoline produced by the Sho-Me Oil and Refinery Co. The photo apparently shows the owner of the Garage, Arthur Johnson in front of the "Sho-Me" visible style gasoline pump on the far-right with his crew. The second visible gas pump on the far-left dispensed "Polar Bear" gasoline and in the background is a Sho-Me Gasoline and Oil Co. tank truck with its driver sitting on the front fender.
Research has found that Tom Roznowski reported in his book "An American Hometown: Terre Haute, Indiana, 1927",,,.  "The Dixie Bee Garage was owned by Arthur Johnson and located at 2804 South 7th Street and Wabash in downtown Terre Haute on US Route 41, which ran from Chicago, Illinois, to Miami"…. "The highway was known as the Dixie Bee Line"…. "Arthur and his wife Maud lived right next door at 2802 south 7th Street."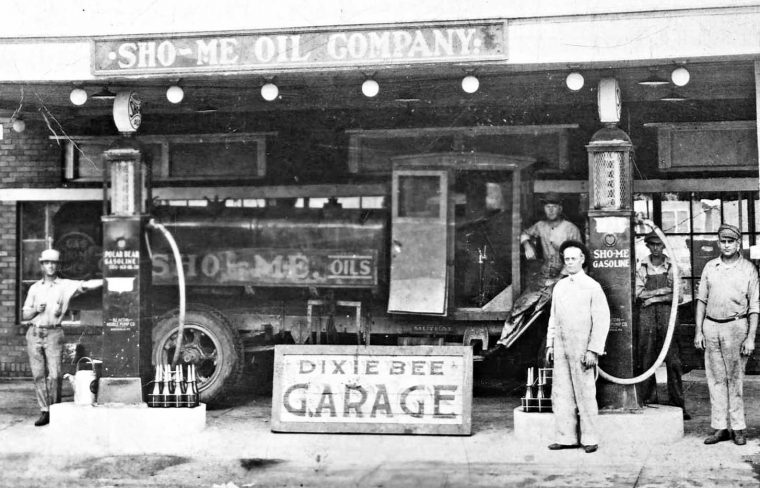 The 1904 Biennial Report of the Secretary of State of Indiana reveals that the Sho-Me Oil Company began operations in the State with ten-thousand dollars in capital stock on September 8, 1904. Sho-Me Gasoline and oil were produced by the Sho-Me Oil and Refinery Co. in Richards, MO, which was later relocated to Sullivan, MO. When in Richards the Company had a group of oil wells and a refinery that was later reported as being abandoned.
Tell up what you find of interest in this image. You can view over 200 other Vintage Gasoline Station pictures here on The Old Motor. The photo is courtesy of Jeremy Gilmore and is via Petroliana.
Editors note: Sorry for the change, but the Kodachrome Car Image Series will return again next Friday.