Today's feature photograph takes us down under to Service Motors Used Car Department at an unknown location in Australia circa-1925. Apparently the auto retailer sold the sturdy and reliable Hupmobile at its primary location and used cars and service work at this garage. The Hupp was a popular car at the time here in the US and in many foreign countries around the world.
Service Motors sold gasoline from two visible clear glass reservoir pumps; the unit on the far-right dispensed Plume, a popular motor fuel produced by the Socony Vacuum Oil Company of Australia. In addition to selling fuel and performing service work, the outfit also sold accessories, batteries, and tires.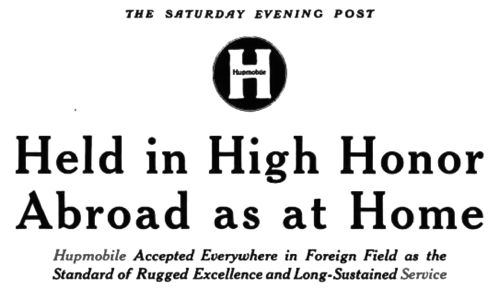 "Saturday Evening Post" July 1, 1922. 
Tell us if you can determine the location of the Sales Agency and what you find of interest in this scene. View the rest of the Hupmobile Saturday Evening Post advertisement shown above that tells of the automaker's success in foreign lands at Google Books.
View over two-hundred other Vintage Filling Stations posted earlier on The Old Motor. The Service Motors image is posted by Ross Ball at Old Service Station Photographs – Australia.
Enlargeable view below of Service Motors Sales and Service Co.