The lead photo and the enlargeable views of it below were taken early in 1943 somewhere in or around the City of Philadelphia. The cars and trucks pictured here were turned into a World War II Scrap Drive, and are staged for the first part of the process where the drivetrain and front axles are cut out of the vehicles. Often the hulks were set on fire to burn out the interior, wood and other non-metallic parts. The final part of the operation seen in the last photo is to crush the bodywork into easy to handle cubes for transport to a steel mill.
The main images contain mostly run-of-the-mill vehicles, but a few stand out in this forlorn group that will soon be transferred into another form. These vehicles are a 1936 or '37 Cadillac town sedan, a convertible coupe which may be a Hudson, and a circa-1930 hearse on a long-wheelbase chassis behind a large sedan in the background. The Cadillac is fitted with very attractive close-coupled coachwork and appears to share some of the design characteristics of the Fleetwood Series 90 V-16 powered offerings, but appears to have a shorter V-8 style of hood than the top-of-the-line models.
Tell us what you find of interest in the photos courtesy of PhillyHistory.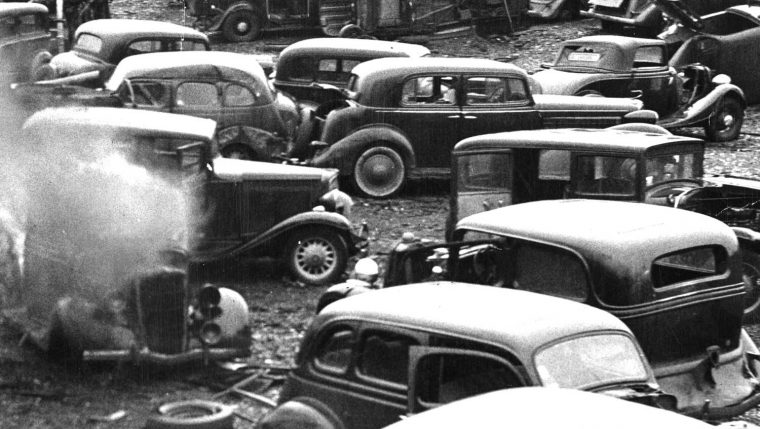 Enlargeable views of the Philadelphia area scrap yard.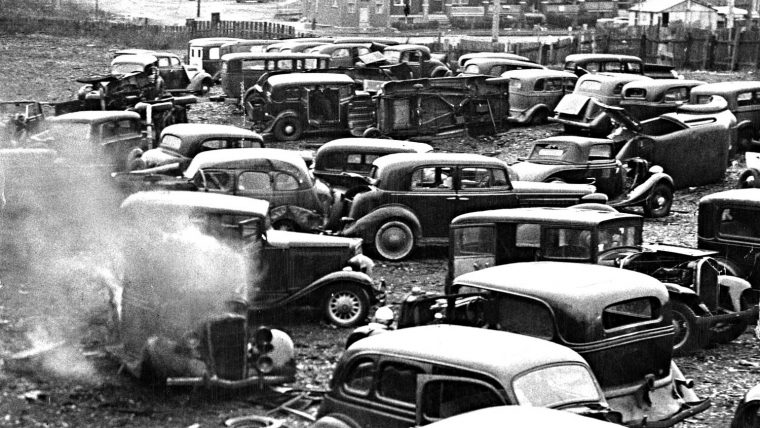 Bailed up automobile bodywork and sheet metal below ready for a trip to a steel mill.