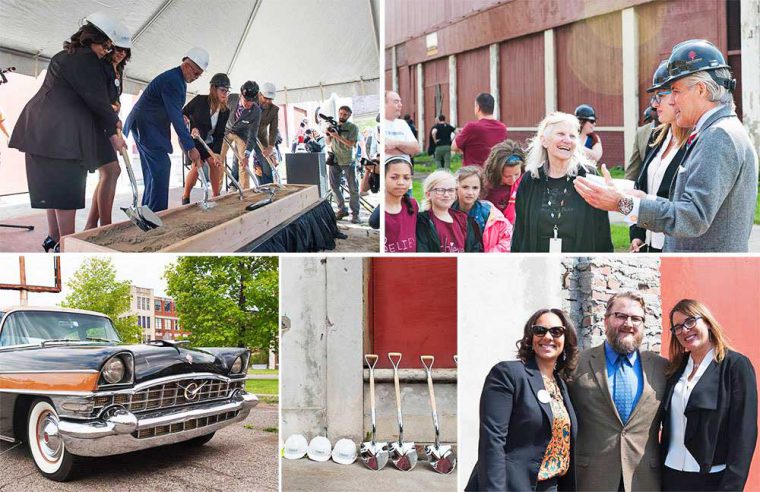 It is finally official! The groundbreaking ceremony before work begins to restore the Packard Office Building and Bridge located at 1580 East Grand Boulevard was held two weeks ago at the site located in Detroit, Michigan. For the last three years, we have reported on the progress that developer Fernando Palazuelo and his Company Arte Express have made on its redevelopment plans for the site and Phase I of the project and are delighted to make this announcement.
A mix of private equity funding from Palazuelo's companies, a Wayne County, Michigan loan, and grant, property tax credits, and a $5.2-million brownfield environmental cleanup plan are all in place. Altogether the package will finance the $16-million dollar renovation of the 121,000 square-foot Administrative Building and the bridge that connects it to the factory buildings. This first part of the redevelopment effort is expected to take between 18 to 24 months to accomplish.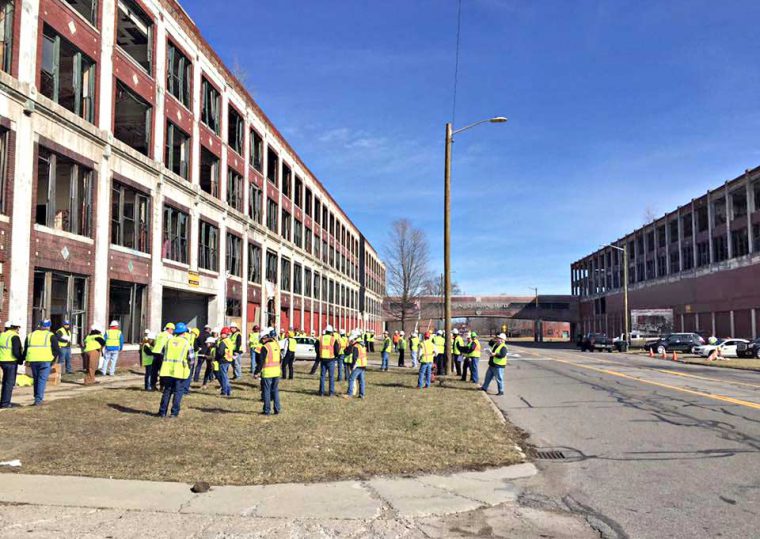 Contractors and subcontractors inspected the Packard Office Building and Bridge late in the winter and placed bids for the rehabilitation project.
Kari Smith, director of development for Arte Express Detroit, has revealed that confirmed future tenants encompass a mix of: an engineering and consulting company, a security firm, a job training program and restaurant, and other prospective tenants. The ground floor of the administration building will also feature a gallery and an event space.
In the video below Smith, a historic preservationist, who's grandfather worked in the Packard Office Building for 25-years details present and future plans for the compound. That video is followed by another showing drone camera footage taken at the site.
Learn more about the history of the site and redevelopment efforts at the Packard Plant Project. All photos are courtesy of Arte Express.
View our earlier reports covering the Packard Plant Rehabilitation here.
Kari Smith, director of development for Arte Express Detroit details the extensive project below.