104 years ago the boys at the "Gaurentee" Garage in Springville, Utah went all out preparing their Model "T Racer" for the local Fourth of July parade. Decorated for the festivities, the car was covered with crepe paper, flags, a Springville banner, and signs promoting the garage. The "race team" on board appears to be a grandfather with his grandson on his lap, and his son behind the wheel, the team mascot, a small dog, is under the car staying out of the hot sunlight.
Even though the "Racer" is covered up with Holiday decorations, it is identifiable by the unique early Model "T" Ford bronze planetary steering box mounted at the top of the steering column, and by the rear axle radius and brake rods. The Ford has been outfitted with aftermarket electric headlights apparently powered by the Ford flywheel magneto which replaced the original acetylene gas headlights; view an advertisement for KW magneto lamps below.
Tell us what you find of interest in this photo courtesy of the Brigham Young University Library.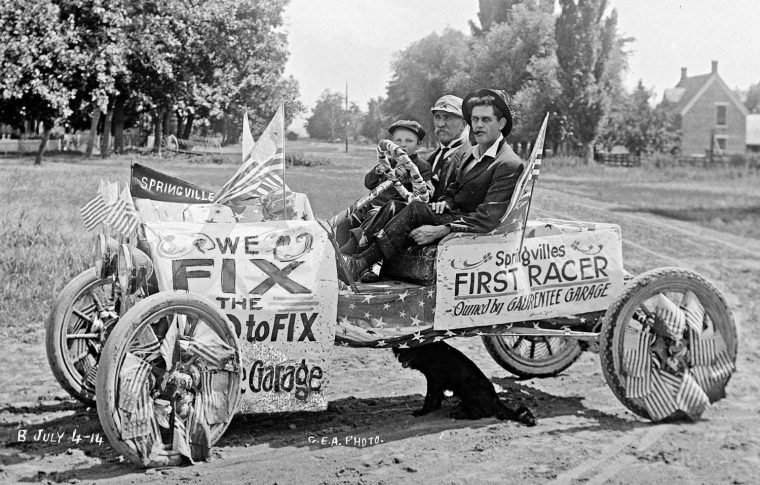 Advertisement below for the KW accessory nine volt headlights powered by the Ford flywheel-mounted ignition magneto – The Automobile January 1, 1913. Lamps of this type would be added by Ford starting on the 1915 Model "T."