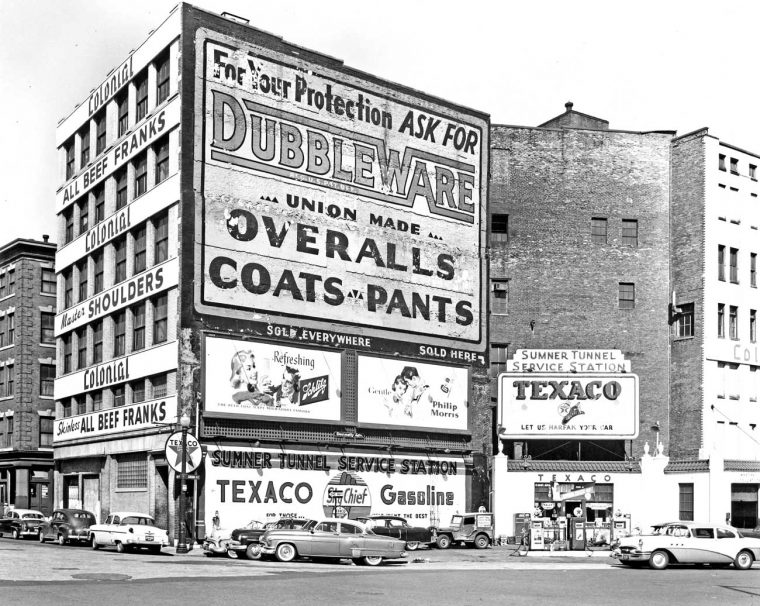 This mid-1950s Sumner Tunnel Service Station image certainly rates as one of the top ten of more than 225-vintage gasoline station photos posted here on The Old Motor over the years. The Tunnel which passes under the Boston Harbor from the City was first opened to two-way traffic on June 30, 1934. It handled traffic traveling to East Boston and deposited motorists headed into the center of Boston in front this Texaco Station.
Due to the large volume of traffic passing by daily, the building on left side of the station served as one of the best places in Boston for billboards and large painted signs. The large Dubbleware advertisement was a ghost sign for a business that had sold work clothes there in the past, the balance of them advertised the Texaco filling station, and beer and frankfurter companies.
The Gas Station was selling regular gasoline for 27 and 9/10 a gallon and premium for 30 and 9/10; Coke was sold in the machine out front for five cents a bottle. The facility also had a service bay that offered Texaco "Marfak" chassis lubrication and both Kelly and B.F. Goodrich tires.
Tell us all you know about the automobiles, the Station's Jeep, and anything else of interest in the expandable photographs above and below courtesy the MIT Libraries.