The Anderson Six was produced by the Anderson Motor Company in Rock Hill, South Carolina, between the years of 1916 to '25. It was one of a few automobiles built in the East below the Mason-Dixon line and was aimed at buyers in the South, although it was also sold in other parts of the country by sales agencies. The Anderson's roots date back to 1889 in the carriage repair and painting trade.
Production of the car featuring a "genuine coachbilt body" of aluminum or steel on an assembled chassis powered by Continental "Red Seal" engines ended in 1924 when the then current Model 41 cars began to suffer from engine failures, and a fire damaged the Factory. A few cars were assembled in 1925 from remaining parts, a total of about 6500 automobiles were built over the nine years the Anderson was in production. Six of the cars have been reported to survive.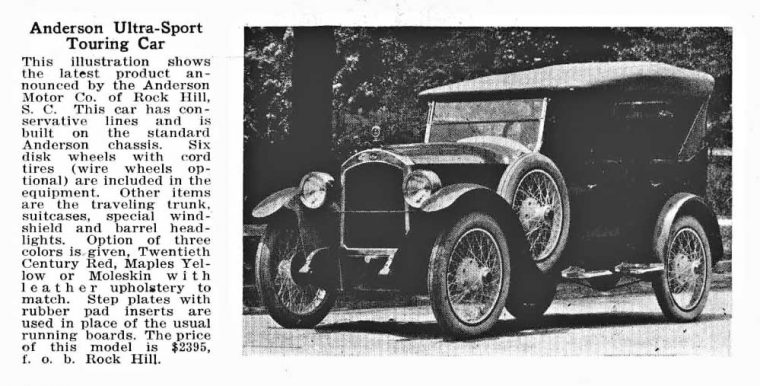 Details of the Anderson "Six" – Automobile Trade Journal October 1922.

 
The Anderson Speedster featured here is a 1922 "Coachbilt" Six, which when introduced was priced at $2475. It was capable of traveling sixty m.p.h. and is fitted with: an aluminum body "with conservative lines," optional wire wheels, dual side mounts, khaki top over varnished wooden bows, nickel-plated "barrel headlights," step plates with rubber inserts, cowl lights and vent, MotoMeter, side and trunk doors, mud flaps and shock absorbers.
Tell us what you find of interest in the photos courtesy of the Detroit Public Library.
Enlargeable photograph of the 1922 Anderson "Coachbilt" Six Speedster.