The lead photo of an Oldsmobile auto show chassis with actor and model Shirley Buchanan is one of a series of pre-show press photos taken of cars and show displays with celebrity Hollywood models. The occasion was the ten-day Los Angeles International Automobile Show held between March 7th to the 16th, 1952.
While looking at the photograph of the chassis, at first glance, it appeared to be equipped with a cutaway Olds "Rocket" V-8, 303 c.i. engine. After enlarging a section of the shot containing the motor it soon became apparent that it was indeed a highly prepared and detailed display cross-sectioned just behind the first two cylinders. In a rush to prepare this photo before sending it out to the press it was altered by haphazardly placing a section from another photo on top of it.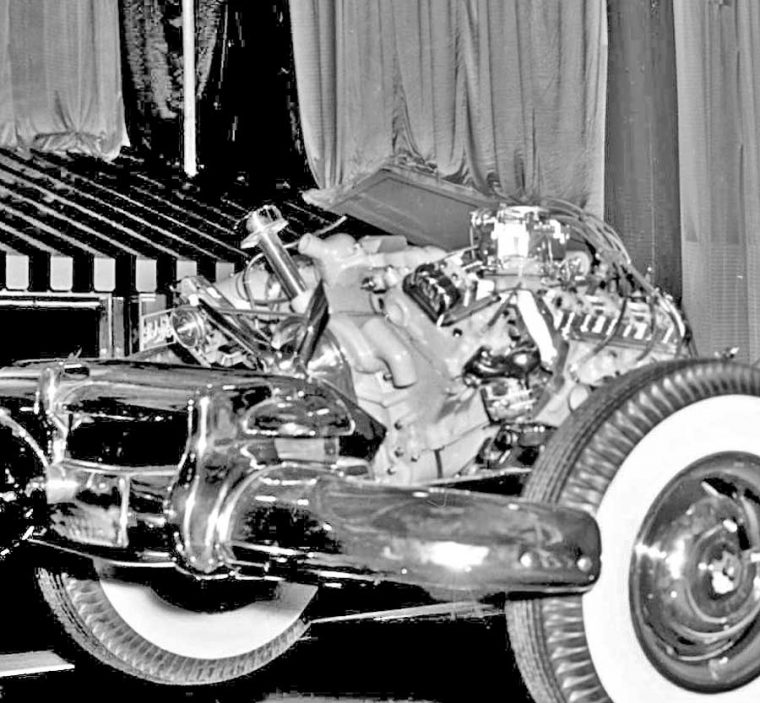 Expanded section of the image above shows the poorly doctored 1952 Olds V-8 o.h.v valve engine.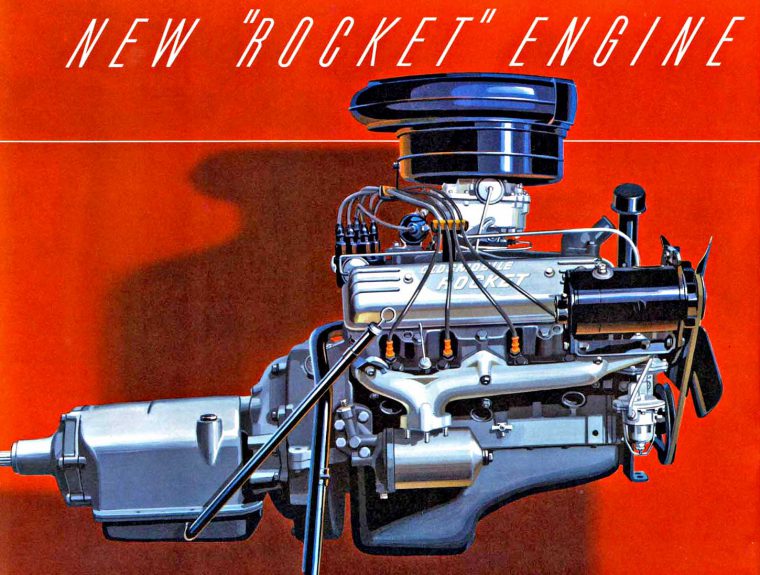 Colored illustration of the Olds "Rocket" V-8 engine from the automakers 1952 brochure.
The "Rocket" engine was one of two advanced o.h.v. postwar V-8 engines introduced in 1949 by General Motors. The motors would serve as models for many other modern engines produced by both US and Foreign auto and truckmakers for over fifty years; the other engine was the 331 c.i. Cadillac V-8. The pair of power plants are completely different designs, although further advancements with either were shared by both of the GM divisions.
Other press photos of 1952 a Hudson cutaway display and a Packard Convertible at the show preview will follow.
Share with us what you find of interest in the image courtesy of the USC Libraries. The color illustration above is a part of a 1949 Oldsmobile brochure courtesy of The Old Car Manual Project.
Shirley Buchanan below posing with the 1949 Oldsmobile display chassis at the Los Angeles Automobile show held at the Pan-Pacific Auditorium.