Today's car dealership images were all taken in Brattleboro, Vermont, the home of The Old Motor. The lead photo and the enlargeable view of it below show Robertson Motors which was located at 1147 Putney Road next to the intersection of Vermont Routes 5 and 9 on the North side of town. Four 1956 Dodges and a 1956 Plymouth are in the line up out front along with a number of used cars.
At some point later on the name was changed to R.S. Roberts and the outfit moved to the South side of town into a new building and was in operation until closing about ten years ago. None of the buildings have survived and today at the original site is a Ford dealership.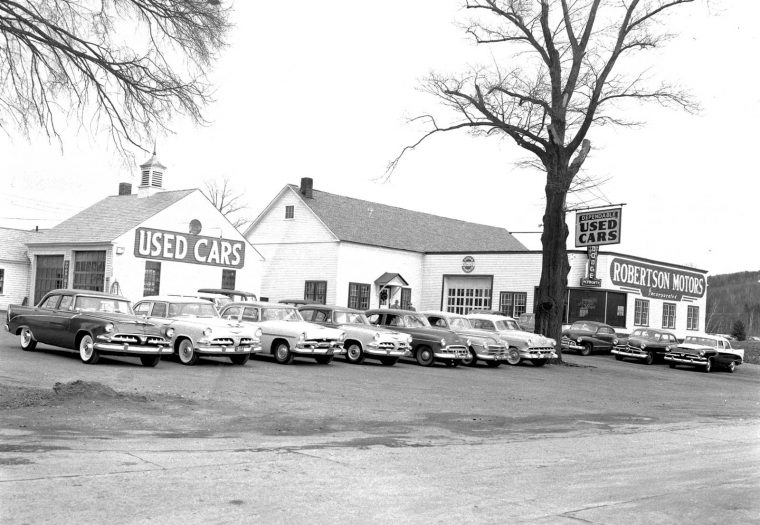 Robertson Motors, Brattleboro, Vermont sold Dodge and Plymouth cars in 1956.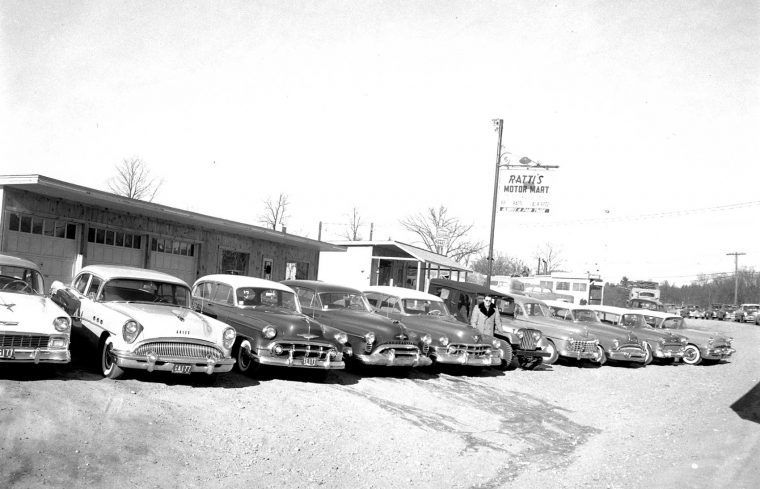 About a mile South of Robinson Motors, on Route 5 at 556 Putney Road on the way to the center of Brattleboro, Sas Ratti opened the "Motor Mart," a used car dealership in the mid-1950s. It appears Sas was in this location for only a few years, and then he either moved on to another spot in town or began a career selling new cars that lasted at least thirty more years, he last sold vehicles at R.S. Roberts mentioned earlier.
Shortly afterward in the late-1950s or early-1960s most of the "Motor Mart" building was torn down, and the new M&L Motor Co. building was constructed on the site. M&L apparently sold and serviced Chrysler Products at this location and may have moved here from a location in downtown Brattleboro. Exactly how long the Company was in business at this location is not known. In the 1960s or early-1970s Brattleboro Tire, which sells Goodyear tires and performs service work located here and the building and the Business has survived.
Tell us what you find of interest in these photos courtesy of the Brattleboro Historical Society.