To wrap up the Auto Parts Manufacturing Co. series, images of a pair of unique touring cars and the engine and transmission assembly rooms are featured here in Part III.
The rear portion of the coachwork of the used touring car in the lead image apparently was modified by the Company to fold down and transform into a utility body. By comparing the photo with the picture below it is apparent that long panels are added on the sides to fill in the door opening. Next, the top of the rear seat section above the belt line and the upholstery are removed, and it is then lowered down and rearward to line up with the inserted side panels.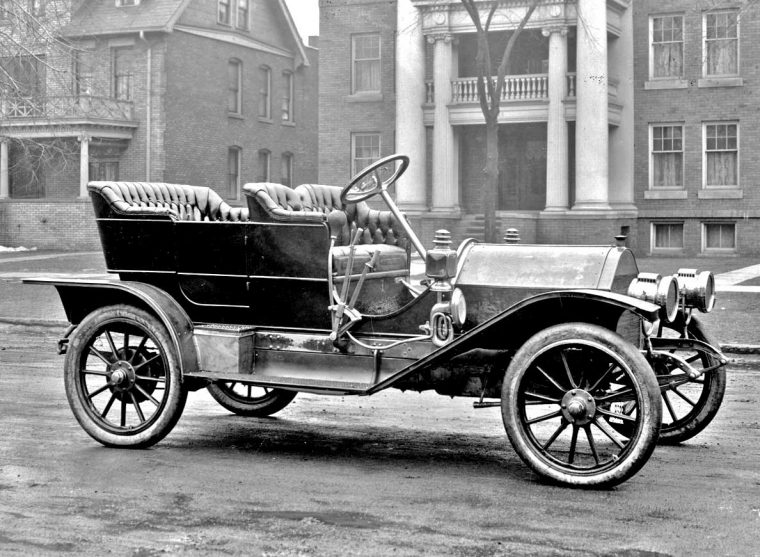 The vehicle appears to be a well-worn thirty-h.p. touring car that an automaker may have sent to the Auto Parts Manufacturing Co. to engineer and construct this prototype rear section. If that is the case, we are left to wonder if our readers can identify the maker of this circa 1910 automobile?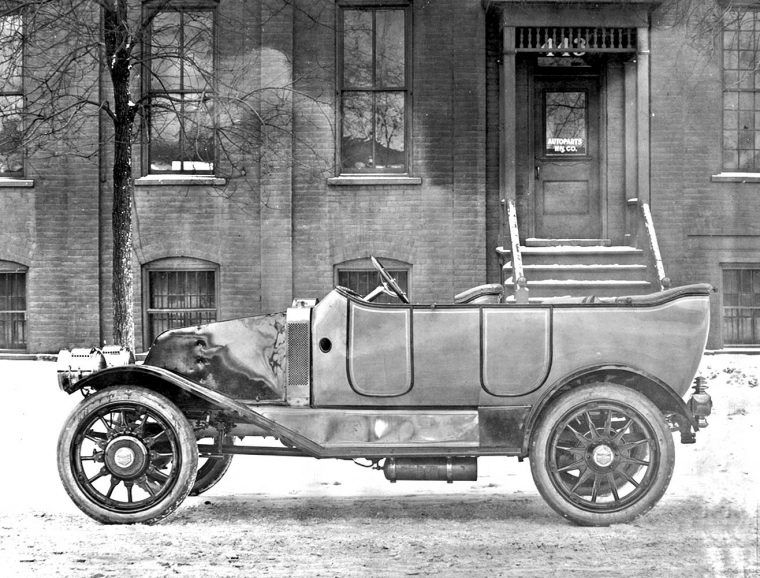 The second mystery touring car above, which has an appearance similar to a period Renault, features front-wheel drive and appears to be a prototype. A driveshaft is visible under the car that connects a transmission and transfer case to a front-mounted differential and axle. The wheels have large-sized hubs which apparently contain some type of a u-joint like assembly that allows for steering and the transfer power to the wheels.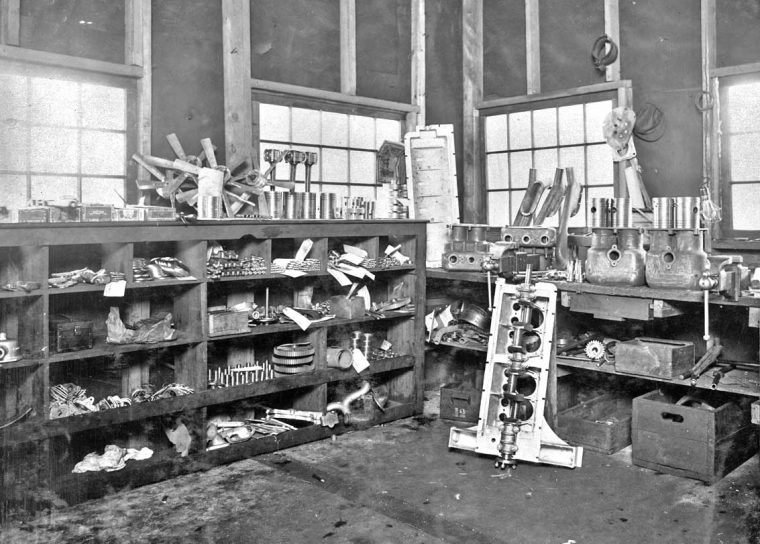 A corner of the chassis and engine assembly room above, also shown in the first part of the series contains parts for two different-sized four cylinder engines. The blocks and pistons on the right side of the bench are for a medium-sized motor. The smaller L-head cylinder castings on the left-hand-side and the piston and connecting rods on the top of the shelf on the left appear to fit the crankcase assembly leaning against the work bench.
The image below of another room shows gearing, shafts, and sprockets for chain final drive transmission and differential assemblies. The adjoining room behind the window appears to contain a part of the Company's offices. The clock on the wall is an electric model, manufactured by the Self Winding Clock Co.
Tell us what you find of interest in this set of Spooner and Wells images courtesy of the National Automotive History Collection. View all three parts of the Auto Parts Manufacturing Co. series here.