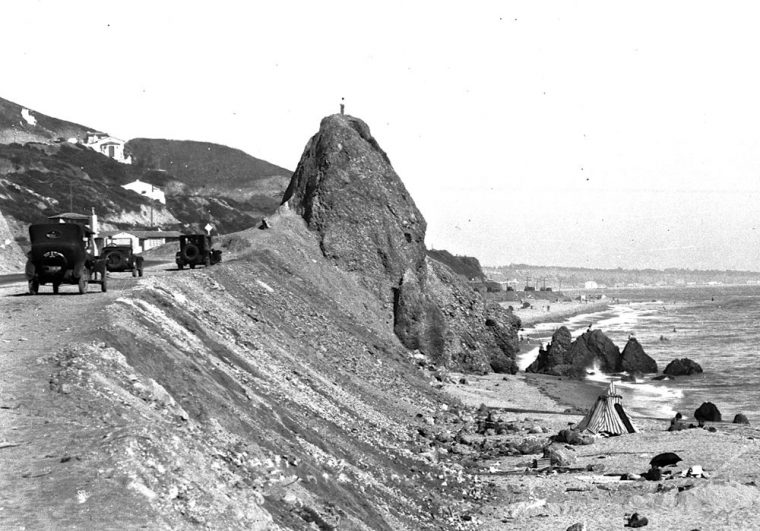 Summer time vacation travel plans for many of us here in the US often includes a trip to the eastern, southeastern or western sea coasts to see the sights and enjoy some rest and relaxation. In California, the location of today's feature photos, a trip along the 655-mile long Pacific Coast Highway, designated State Route 1 has long been a popular road trip.
The lead image is a late-1920s view to the north on a colorized postcard and shows: Castle Rock, the Highway, the beach, and mansions – The photo above is an earlier circa-1920 view looking south.
Today we visit a long gone attraction, Castle Rock, which was located on the Roosevelt Highway (the earlier name for the road) which unfortunately was destroyed after being blasted with 350-pounds of dynamite in 1945 during construction on the Highway. The attraction was in Pacific Palisades, located just north of Santa Monica, and Los Angeles in Southern California.
The late-1920s image below taken at low tide shows the effects of "progress" to the parking area which was moved away from the Thoroughfare and resulted in the beach being narrowed. Learn more about and view other images of "Lost Landmarks" in the area here.
Tell us what you find of interest in the images courtesy of the USC Libraries.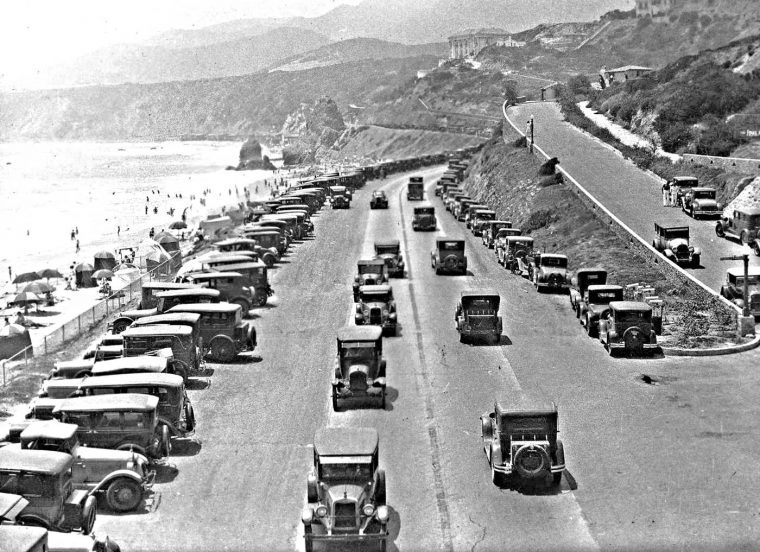 Late-1920s image showing further changes and more visitors and cars to the area.