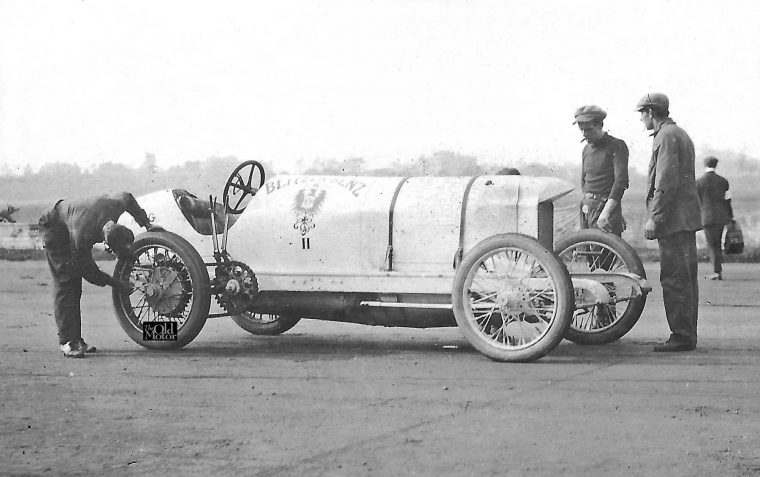 Thanks go out to everyone for your patience and feedback during last week's shut down for a site overhaul. The Old Motor is back in operation today with exclusive photos courtesy of Roy Bertalovitz who wrote:
Updated – These photos of Bob Burman, the "Blitzen" Benz, and other racing cars and drivers originate from a small photo album apparently assembled during a single summer season spent on Long Island, New York. Other images in the scrapbook show young socialites sailing and playing on the beach. All of the original Kodak prints are from the same type of bellows camera.
The "Motor Races" banner identifies the location as the Brighton Beach, New York race track, and the pictures are all taken at the start and finish line. Burman can be seen inspecting the spokes on the left rear wheel of the Benz before a run. Other archived pictures peg the young man with the newsboy cap and cigar at the left in front of the car looking down as the riding mechanic. To totally confuse things if you compare the photos closely you will see that the Number "Blitzen I" in the second photo is a different car."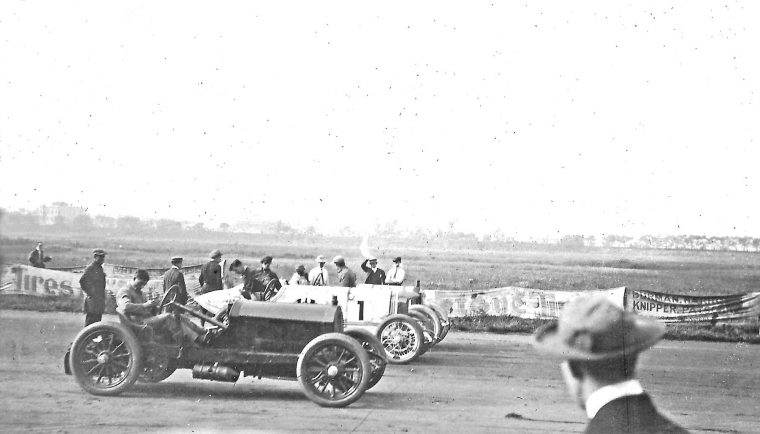 Three cars lined up for a race front to rear: Mystery chain driven car built for sprint races, possibly imported, note the huge front sprocket, the "Blitzen Benz I" with a different version of the crest on its cowl and an unpainted radiator, and the White Special. The banner on the far-right apparently lists the star racing drivers who were scheduled to run in theevent event: Burman, Ray Harroun, Billy Knipper, and Cecil Patsce?
Update – Editors Note: The Daimler Company history of the six Benz 200-hp cars dates this race at Brighton Beach as taking place on September 30, 1912. It the first time that "Blitzen I" and "Blitzen II" were together at a race event.
The Number "2" Stutz most likely with Dave Lewis at the wheel in the pole position in the image below also dates this set of photos to 1912. View a later 1913 photo of the "Blitzen Benz II" and Burman in an earlier article covering both "Blitzen Benz" cars.
An article in the Automobile Topics October 5, 1912, issue covered this race, if you can find a copy of it do let us know. Tell us what else you find of interest in this set of photos or if you have and information on this meet.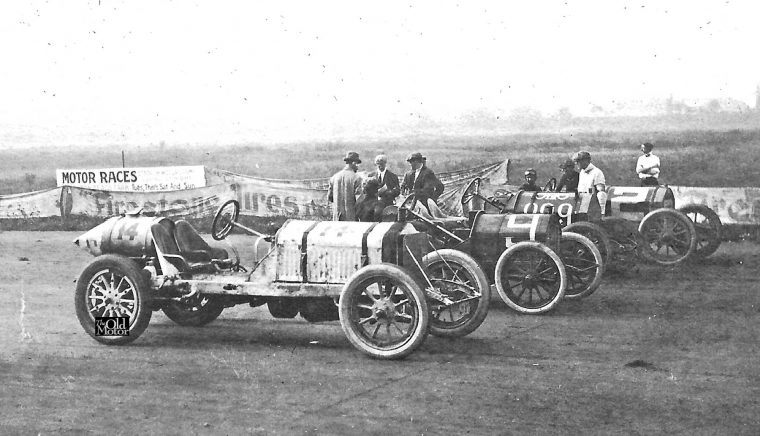 Racing cars lined up for a race front to rear: White special, unidentified numbers "9" and "999", and on the pole a Stutz – below "999" and the Stutz.