The Alaskan Way is a thoroughfare in the City of Seattle, Washington, located on the waterfront of Elliott Bay: it travels in a northwesterly direction from downtown and along the water to the Belltown neighborhood. It was originally constructed by the Seattle, Lake Shore and Eastern Railway in the years before the Great Seattle Fire of 1889 consumed it. After the Fire it was rebuilt in the same location above the water of wooden pilings with a plank deck and named Railroad Avenue. Trains carried freight on it and serviced the piers, warehouses, and industry located along the route.
Today's lead image and the enlargeable version of it below are of a view to the north dated 1939 along the busy roadway. Left-to-right in the photo: buildings and warehouses constructed on piers over the water, Alaskan Way, streetcar and train tracks, a parking lot, a second set of train tracks, and industrial buildings.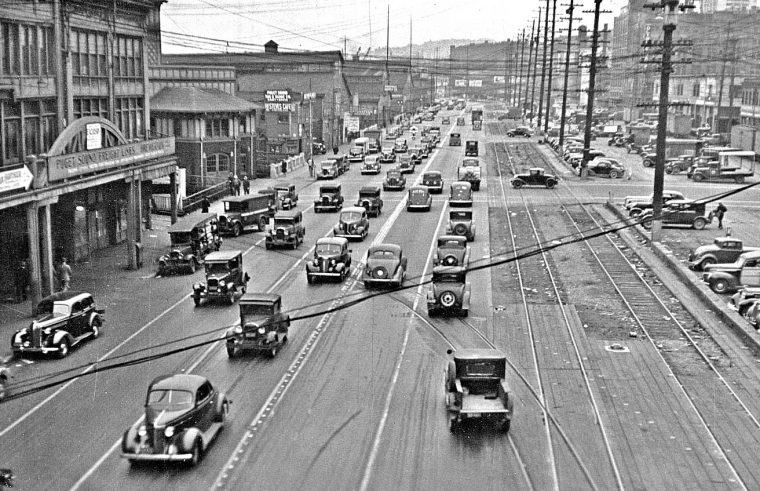 The second photograph below, also dated 1939 is bustling with activity; a policeman is visible on Alaskan Way directing traffic at the intersection just north of the Waterfront Fish Co. The cars and trucks in both pictures date from the late-1920s to then current 1939 models.
Tell us what you find of interest in this set of images courtesy of the Seattle Municipal Archives.