By Eric Haartz: The lead photograph, with only a few exceptions, demonstrates the results of a new era in body engineering that was introduced in the early-1930s. From the ascendency of closed-bodied cars in the early 1920s, car makers sought all steel roofs.  The initial attempts with boxy car bodies of that period failed due to air turbulence drumming of the top panel. The drumming phenomenon was similar to what you can still experience by lowering a side window an inch or two while driving. As long as flat car tops remained, the solution was to clothe them in canvas or coated-fabric roof- covers.
As styling dictated more rounded body contours going into the 1930s, the fabric panel on the roof deck receded to the flattest center portion (although full fabric roof-covers could be fitted for decorative effect on higher style cars). These were a big maintenance problem, with residual moisture attacking both fabric and perimeter steel, and even rated mention by Alfred Sloan in Chapter 15 (Styling) of his 1964 book, "My years with General Motors."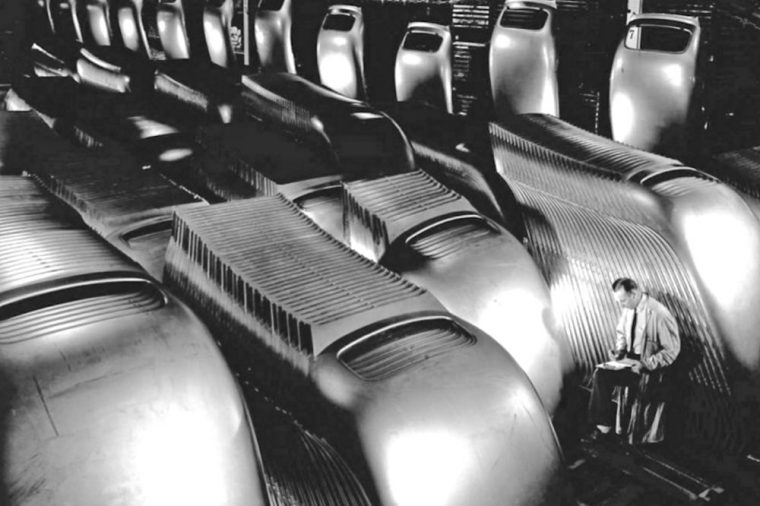 Stamped steel turret tops for different body styles in a Chevrolet body stamping plant.  
In 1932 the Inland Steel Company opened America's first continuous sheet mill capable of making wide sheet steel.  Concurrently Inland and other steel producers introduced steel formulations that allowed deep-draw car body stampings.  These two advancements enabled car makers to make full steel roofs with enough crown to avoid drumming, and in keeping with the styling of that decade.
All-steel sedan and coupe roofs first appeared on 1933 Oldsmobiles as the Fisher Body "Turret Top" and on Willys Overland "Silver Streak" and "Streamline" models.  In the course of the next three years, all of the major car makers followed suit, this Cadillac being typical after the transition ended.
The lead photo is via and courtesy of worldsfair39. The Chevrolet body plant photos are courtesy of the General Motors Archive.
Installed stamped all steel turret tops on an assembly line in a Chevrolet body plant.