The Model "T" Ford car, produced between the years of 1909 to 1927, when stripped down to a bare chassis, served as a  perfect palette for an enthusiast to build a "gentleman's speed car," or racing machine in the teens to as late as the early-1930s. In this case, thanks to Lester Mommsen we have three photos of a "speedster" his grandfather assembled in Pennsylvania during the period.
The lead photo taken in the spring time of him and his sons with a stock Ford "T" chassis and running gear that he lowered four to five inches by using Laurel Motors brackets front and rear. It is also equipped with a set of "drum" style accessory headlights, and license plates and presumably it was test driven by him it in this form.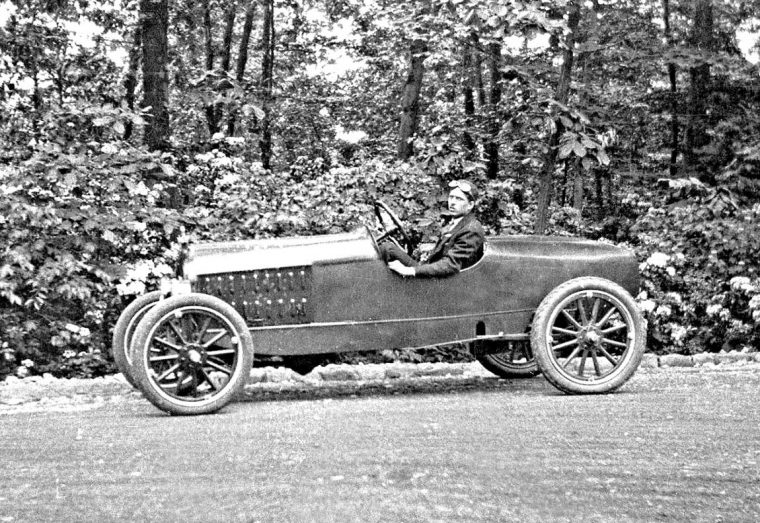 Mommsen out on the road in the summertime enjoying his Speed Car with a Morton and Brett body.
The summertime photo above shows the car out for a run in completed form fitted with an "Indianapolis" Model 500 body with a Fiat type of radiator shell, hood, and side skirts constructed by Morton and Brett, a body builder located in Indianapolis, Indiana. In the teens and twenties, the body manufacturer produced and sold four different types of one and two man speedster and racing bodies along with a four passenger roadster body complete with a rumble seat. View another special with the earliest form of a "Speedway" body produced by the firm for the Ford.
More can be learned about Model "T" Ford speedster coachwork in "The Body Builders" in Part IV of the Model T Ford Speed and Racing Equipment series, here on The Old Motor.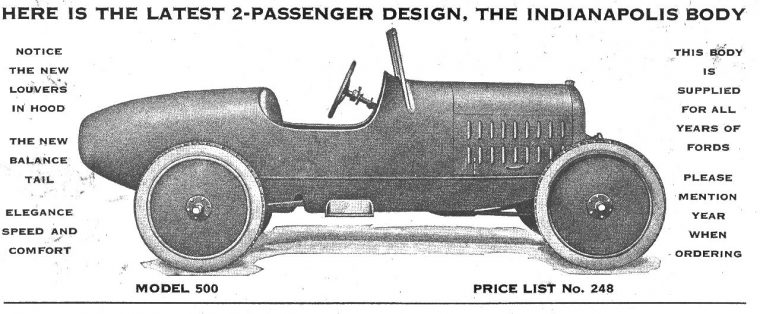 Catalog illustration of the Morton and Brett "Indianapolis" Model 500 body above – Mommsen and the Speedster below in the fall  fitted with an accessory windshield with an aluminum frame by the body builder.