The "assembled car," an automobile built out of components manufactured by companies that were specialists in their own field was relatively common between the years of 1905 to 1922. In 1920 a short but severe post-World War I Depression wiped out any chances for most of these automaker's to continue on due to a lack of sales.
The Kenworthy Motor Company was formed when Cloyd Y. Kenworthy, who was experienced in this field after having started production of the Roamer, (1916-1929) built by the Barley Motor Car Company, left and went off on his own late in 1919 to form a new car company. The 1920 Kenworthy was "cast in the same mold" as the Roamer, and the coachwork for the new automobile was also designed by Karl H. Martin in the manner of the Roamer, with the exception of the body being flat-sided. Martin went on to build his own assembled car the Wasp in Bennington, Vermont.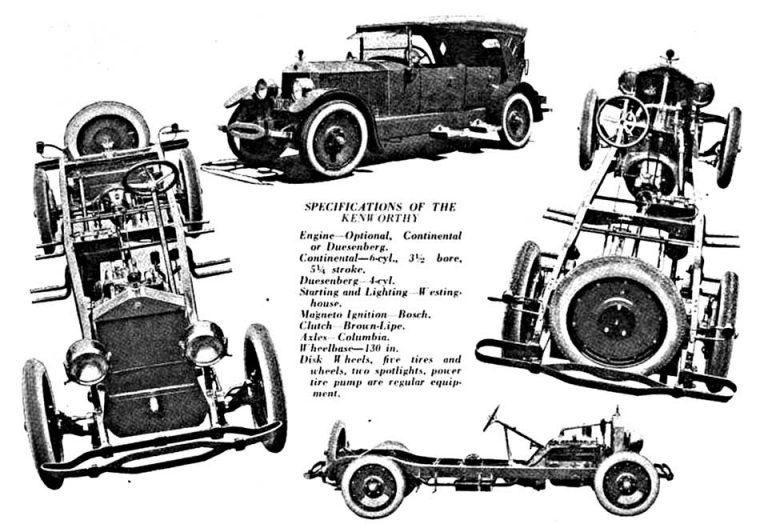 Motor Age Magazine August 5, 1920.
For the initial offering of the Kenworthy, built in Mishawaka, Indiana, the same engines, a six-cylinder 55 h.p. L-head Continental, and a four-cylinder Rochester-Duesenberg walking beam engine were also chosen along with Brown and Lipe transmissions and clutches, and axles from Columbia.
In December of 1920 Kenworthy, apparently following designs by Duesenberg, also built in Indiana, decided to "pull out all the stops" and introduced the Line-O-Eight F-head engine which he designed and four wheel brakes for the new 1921 models. Unfortunately, the effort was all for naught, and Kenworthy left the firm in March of 1921 after being replaced when creditors reorganized the Company. Late in 1921, the Automaker was dissolved after only producing a little over two-hundred automobiles.
Today's photograph is courtesy of Logan Mulford, who submitted the photograph of his grandfather in his 1920 Kenworthy. He lived in New York City, and Logan would like to know if any of our readers can identify the location where the picture was taken. Note the BF Goodrich Silvertown double white wall tires.