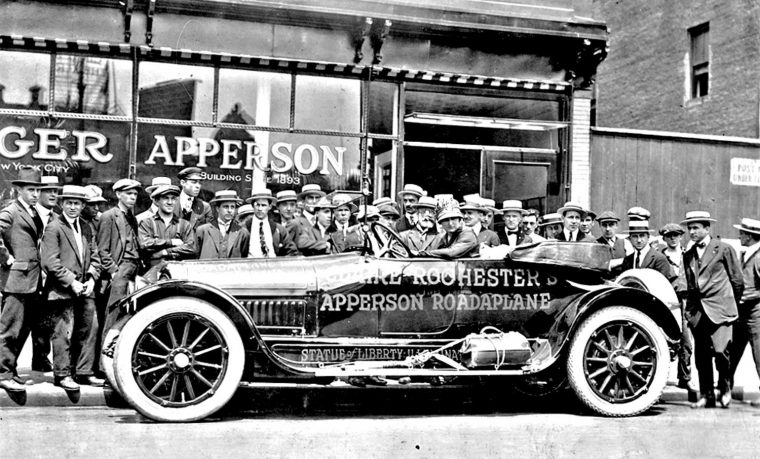 Claire Rochester was a famous Vaudeville actress, singer, and an enthusiastic motorist who made two cross country runs in 1916 and '17. In an enlargeable image above taken at the start of her first tour which began at the Apperson Agency in New York City the "Horseless Age" July 15, 1916, issue reported, "Miss Claire Rochester at the start, behind the wheel of an Apperson "Roadaway" on a transcontinental trip collecting contributions for the permanent lighting of the Statue of Liberty."
The 1916 Apperson "Roadaplane Chummy Roadster" Rochester drove was a new model with a 130-inch wheelbase chassis powered by an all new 335 c.i. 90 degree V-8. Elmer Apperson himself designed and patented the new body style shown below in the patent application drawing.
"Automobile Topics" July 22, 1916, issue reported "From New York City to San Francisco with Claire Rochester at the wheel of an Apperson Roadaplane, she traveled 3710 miles in nine days driving time and covered 3710 miles. During the run, the actress collected thirty-thousand dollars for new permanent lighting for the Statue of Liberty.
The Spooner & Wells photograph is courtesy of the National Automotive History Collection.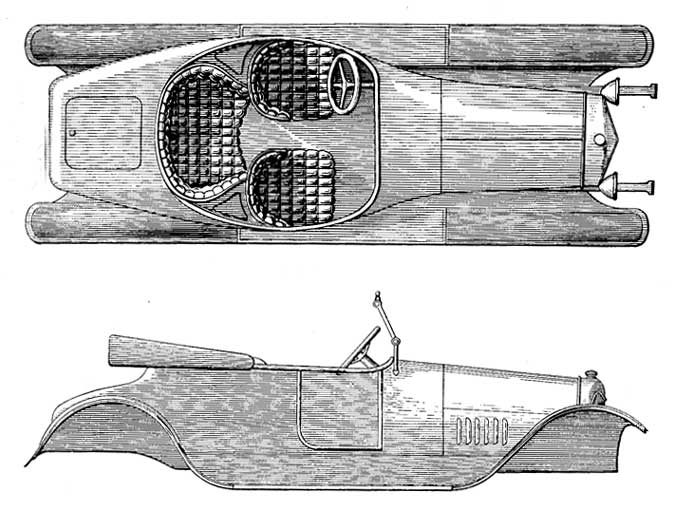 Elmer Apperson's patent drawing of the new four place "Roadaplane Chummy Roadster."
A year later Rochester, pictured below in a 1917 Bain News Service image was ready to leave New York City for San Francisco in April of 1917 on another long distance run. In "The Wake Up America" tour she drove a "Golden Flyer" to help stimulate Liberty War Bond sales and encourage citizens to join the US Army during World War I.
Research has shown that the "Golden Flyer" was a Dixie Flyer (1916 to '23) manufactured by the Dixie Motor Car Co. of Louisville, Kentucky. The mid-sized lower priced roadster with a 122-inch chassis was powered by a "high speed" L-head engine with 3.5 x 5-inch bore and stroke that sold for 875 dollars. The photo is courtesy of the Library of Congress.
Women on Wheels is a new feature series that will showcase women's accomplishments with the automobile.