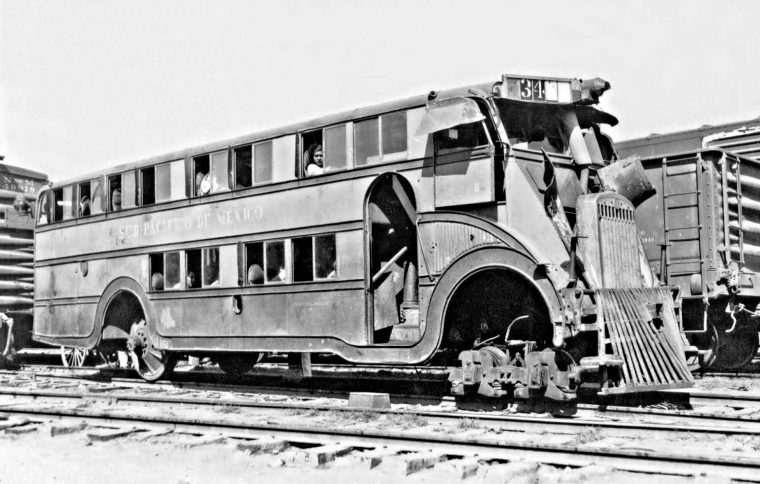 The story of the amazing custom built Pickwick coaches designed by Dwight E. Austin began in 1923 when he was appointed the Superintendent of the Pickwick Stage Lines Body Works. His first design was the Pickwick Observation-Buffet Coach in 1925, followed two years later with the addition of an enclosed pilothouse for the driver as seen below in a photo from a Pickwick brochure image. All of Austin's later designs can be viewed in an earlier article: Pickwick Motor Coach Designs.
The object of today's post is one of the early Duplex Coaches that ended up in the Sud Pacifico de Mexico (Union Pacific's Mexican lines 1880-'51) fleet of rolling stock. This unusual rail car is seen in the lead image and an enlargeable version above found via Actripity. Apparently, after it was removed from road service Union Pacific purchased it and converted the undercarriage of the machine for service south of the border.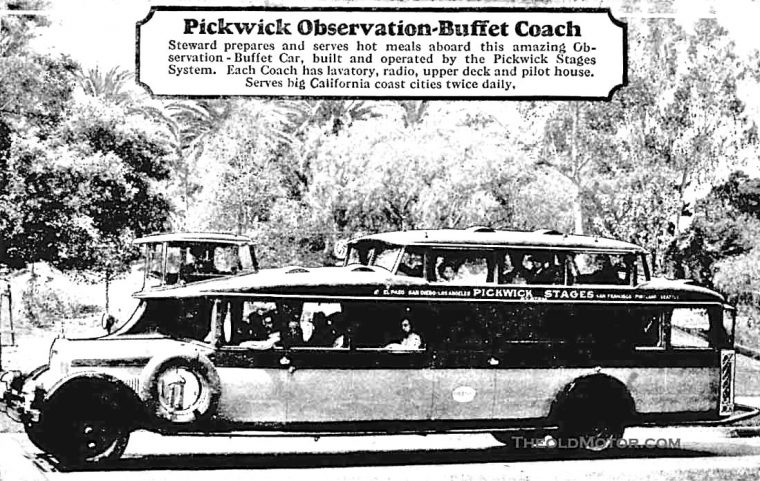 Circa 1927 Pickwick Observation-Buffet Coach used by the Bus Line on some of its California runs.
From what can be observed in the Sud Pacifico de Mexico photo the conversion consisted of removing the steering gear and front axle and replacing it with a rail truck, the dual rear wheels were removed and bolt on cast metal wheels with steel tires were attached to the original rear drive axle.
The other modifications for railroad service included adding a windshield visor, a lamp, and a cow catcher. For hot weather use, the coach door was removed, and the upper doors of the cab were equipped with latches allowing them to open partly and scoop in outside air, the original hood sides were latched in the open position. The angled bucket-like device above the radiator apparently was either an expansion tank for the coolant or a tank with a valve used for adding more when necessary.
The photograph below courtesy of the Denver Post Archive contains an early Duplex Coach and a detail image of the easily removable power plant that the allowed for quick switching of the engine, clutch and cooling system assembly that limited downtime.
Tell us what you find of interest in these images. Thanks go out to contributor Gene Herman.
An early circa 1930 Pickwick "Duplex Coach" and a detail image of the quick change power plant.