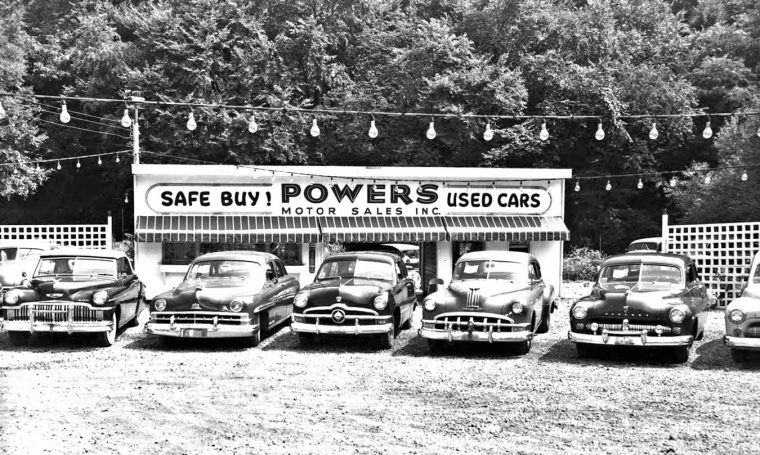 "Moving the metal" is a term for used for auto sales that originated in the early to mid-1900s in the "Motor City," Detroit, Michigan. The expression is still in use today in new and used car sales field, although over time, for the most part, has transformed to "moving units." Selling new cars in good times is generally easier than selling used cars, as many buyers usually know what brand and model of car they are interested in and making a sale usually ends up with getting the options and color the customer wants quickly at a favorable price.
The used car sales business is different in that a successful dealer needs to know what brands, models, and colors are the most popular to the majority of the buying public, and then find these "units" and purchase them at price where a profit can be made by reselling them.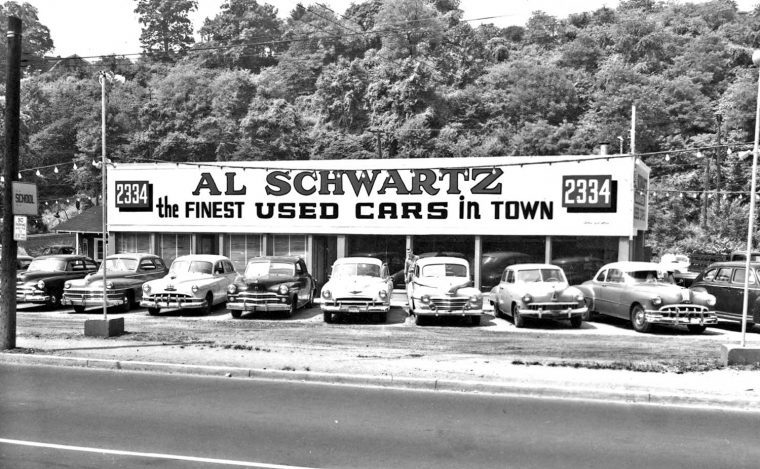 Today we take a look at early-1950s photographs of two used car dealers storefronts and their inventory in the Brookline neighborhood of Pittsburgh, Pennsylvania on Saw Mill Run Boulevard, State Highway 51, which has long been a haven for used car dealers. Both dealerships handled late 1940s to early-'50s cars.
Power's Motor Sales Inc. "Safe Buy Used Cars" seen in the lead and enlargeable photos at the top was located at 125 Saw Mill Run Boulevard and apparently handed both low and mid-priced clean late model used cars in front of the offices with an open-ended display spot between them in middle. Al Schwartz just above sold "The Finest Used Cars In Town" at 2334 Saw Mill Run Boulevard and handled a more middle-of-the-road inventory of basic used cars although the facility had a good-sized indoor showroom.