By Jennifer Strong:  The 2017 Concours d'Elegance marks my second year in attendance, and I am still in awe of the overall perfection and spectacle of Pebble Beach. At one of the greatest curated automotive events in the world, I find automobiles on the 18th green that I didn't know existed which fuels my obsession with cars. Highlights this year were the sophisticated elegance of the featured marque Isotta Fraschini, the brilliant fun and whimsy of the American Dream Cars, and an assortment of other rare gems seen on the Concours lawn.
Part I: Elegance
Pebble Beach has built its reputation on pre-war automotive elegance, and selecting Isotta Fraschini as a featured class this year continued this tradition. The chance to see twenty examples by the revered automaker in one place was truly remarkable.
Lead image – 1927 Isotta Franschini Typo 8A Cesare Sala Torpedo.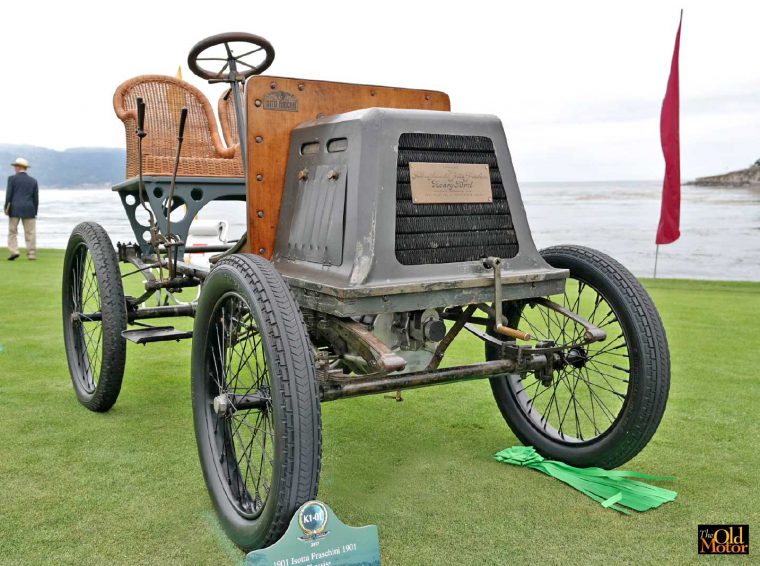 1901 Isotta Fraschini Chassis No. 1.
Founded in 1900 in Milan, Italy, Isotta Fraschini quickly moved from importing and selling automobiles to focus on manufacturing passenger and racing cars. Although they were one of the early pioneers to use an overhead cam and four-wheel brakes, and produced the first production car with an inline eight-cylinder engine, the company is best known for manufacturing one of the most expensive and luxurious cars of the 1920s and early-'30s.
In an era when luxury automakers paired with independent coachbuilders to create extravagant one-off automobiles, Isotta Fraschini was one of the most desired vehicles for the richest of the rich, high society, and movie stars, and embodied the wealth and overabundance of the time. The many embellishments like custom upholstery unique to each car, magnificent woodwork and my favorite detail – the ornate radiator grill guards – make each car a work of art.
Although not extravagant, Isotta Fraschini Chassis No. 1 above is historically significant for being the first car the emerging automaker produced and it consists of a simple chassis with a single-cylinder De Dion-Bouton engine, that was used primarily for factory testing. One of its most unusual features is having Henry Ford's name on the large plaque attached to the radiator. In 1930 Ford considered investing in Isotta Fraschini and Chassis 1 was given to him during negotiations for display at the then-new Henry Ford Museum. The investment never happened, and after a short time on view in Dearborn, Michigan it spent many decades in storage. When it finally returned to Italy, the period style wicker seats and support were added.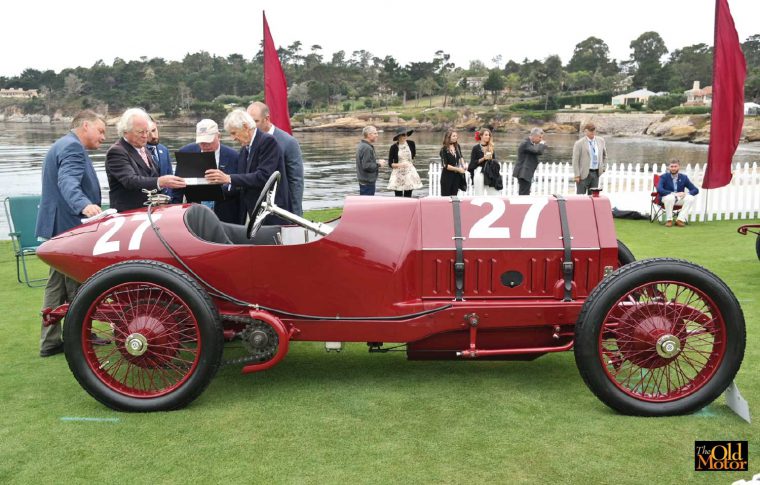 1913 Isotta Fraschini Tipo IM Racing Car.
Like many manufacturers, Isotta Fraschini entered into the racing arena as a way to both develop and market their cars, including entries in early Indianapolis 500 races. This 1913 Tipo IM Race Car is one of six built and one of three to race at Indy that year. Powered by a four-cylinder engine with a single overhead cam, none of the Isottas' finished due to mechanical issues, although the chance to study one now shows that the company's fine craftsmanship and style are readily apparent in their competition machines.
Viewing Isotta Fraschini's side-by-side in a Concours setting also becomes a study of the various coachbuilders that lent their signature styling and detail to each body built. Italian Coachbuilder Cesare Sala was an early collaborator with Isotta, and the 1927 Tipo 8A Cesare Sala Torpedo in the lead photo is an admirable example of his work. The Torpedo's finely crafted coachwork with very refined and exquisite wood covering and moldings was a joy to examine at the Concours.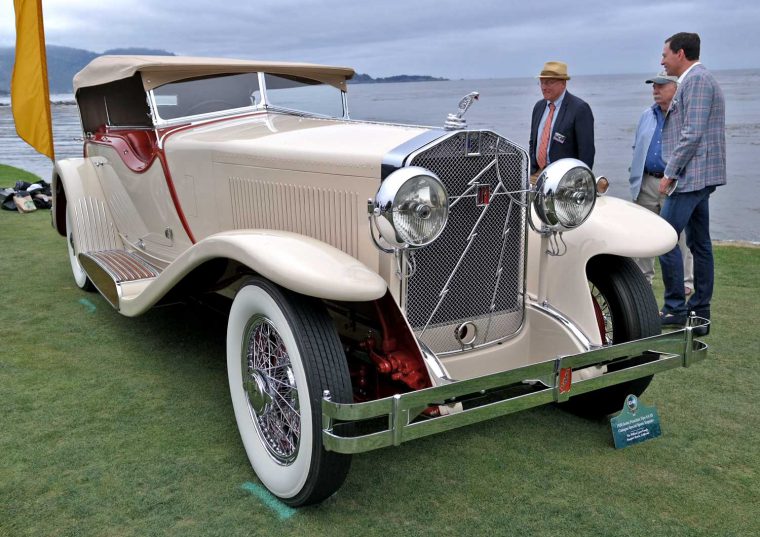 1930 Isotta Fraschini Typo 8A Castagna Special Sports Torpedo
Although Castagna built attractive bodies for many different marquees, it's hard for me to separate this coachbuilder from Isotta Fraschini. It is fitting that Castagna coachwork was also a featured class because the two companies together represent the roaring twenties in fine form and the signature Art Deco radiator guards that adorn many Isottas' were originally the work of Castagna. Viewing ten examples of this combination in one location was my favorite only at Pebble Beach moment of the day.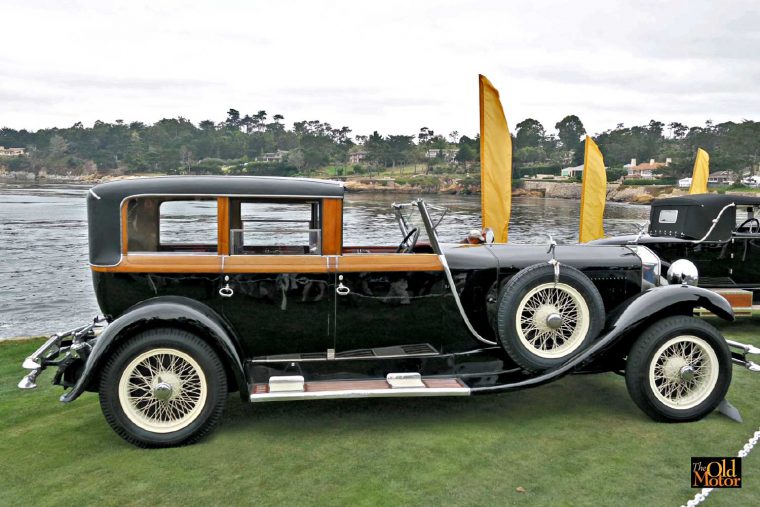 1927Isotta Fraschini Tipo 8A Saoutchik Coupé Chauffeur.
I relate French coachbuilder Saoutchik more with Hispano Suiza and Delahaye, but his work was also represented with the 1927 Tipo 8A Saoutchik Coupé Chauffeur seen above. The sweeping aluminum cowl molding leading to the windshield is so unique yet so Saoutchik. This was my favorite non-Castagna built Isotta of the day.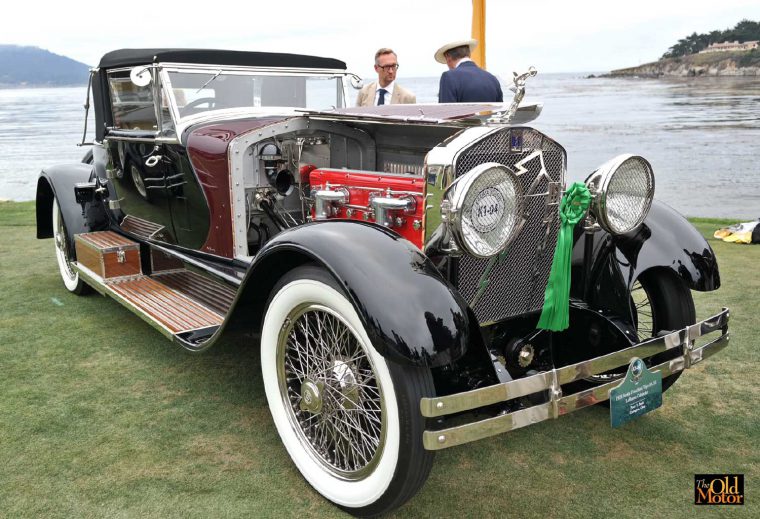 1928 Isotta Fraschini Typo 8A LeBaron Cabriolet
The United States was a large market for Isotta Fraschini, and many of the cars sold in the US were purchased in chassis form and bodied stateside. Also on display were excellent examples with coachwork by LeBaron seen above and Fleetwood.
As a fan of radiator mascots, it was a wonderful opportunity to see all the elegant Art Deco "Esprit of Triomphe" emblems flying together on the hoods of these remarkable cars, and equally impressive that some owners opted for a Rudolph Valentino inspired Cobra. Having starred in the movie Cobra, this mascot adorned the actor's own Isotta Fraschini.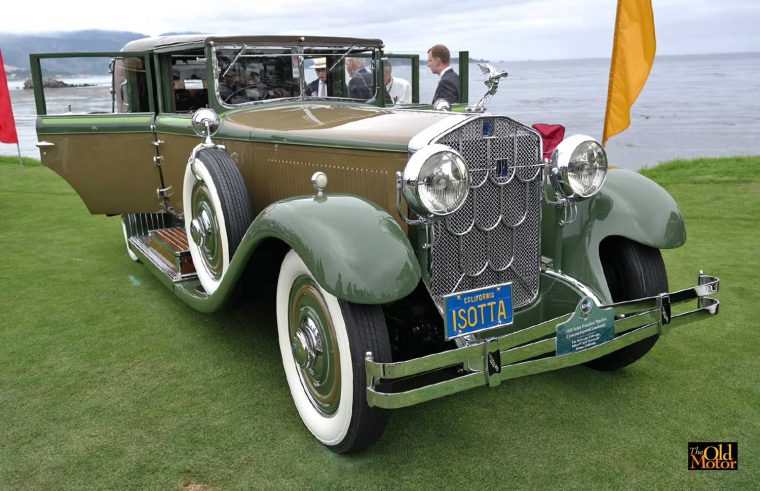 1928 Isotta Fraschini Castagna Imperial Landaulet.
Naming one favorite is impossible but the 1928 Tipo 8A Castagna Imperial Landaulet above owned by the Nethercutt Collection with its scalloped grill guard and a system to communicate directions to the driver via a display on the dashboard and it and the 1929 Tipo 8A Castagna Imperial Cabriolet below with it's less flashy but imposing presence were standouts.
The 1928 Tipo 8A Castagna Commodore on display is a familiar favorite too. It is part of the Academy of Art Collection in San Francisco, and the car that years ago introduced me to the automaker. The Commodore body style while still refined is the most sporting version.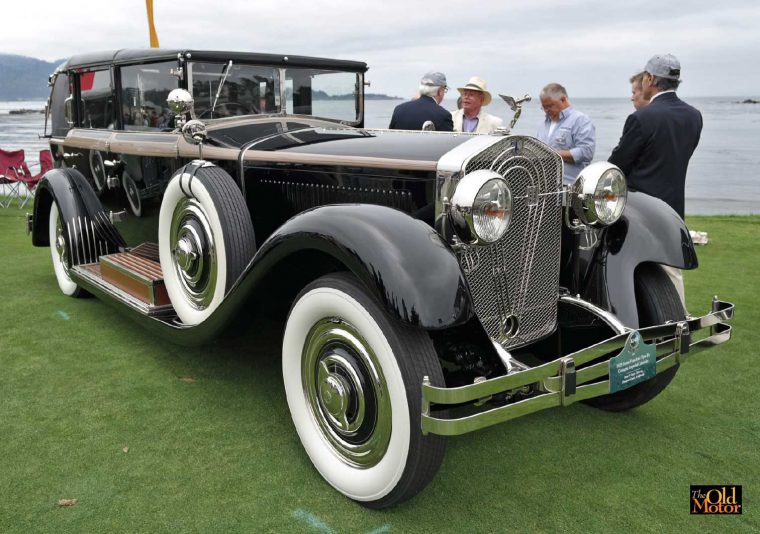 1929 Isotta Fraschini Typo 8A Castagna Imperial Cabriolet
Isotta Fraschini was not able to transition back to car production after World War II, but the firm did try. Six prototypes of the Tipo 8C Monterosa were made but never made it into production. Two prototypes survive, and the 1947 Tipo 8C Monterosa Touring Coupe and the 1948 Tipo 8C Monterosa Boneschi Cabriolet were both on display. These were highly advanced luxury cars and included spring operated doors, hinged fenders, and featured convenient dashboard activation of a Fraschini jacking system fitted on all four corners. With the high cost of production, the Monterosa never found an audience, but it was a thrill to see what might have been.
Parts II and III of the series will be featured soon. All photos are by author and contributor Jennifer Strong.
The video below edited by Quinn Vandenberg courtesy of the Pebble Beach Concours d'Elegance gives you a view of all the Isottas' on display at the Concours along with appealing footage of the fine details of a number of the cars.