Today's late-1940s images are of Main Street in Bristol, Connecticut, and cars on it, the majority of which were manufactured by GM because the City of Bristol was the home of the New Departure Manufacturing Co. a division of General Motors. The company was first formed in 1888 when Albert, and Edward Rockwell began to manufacture door and bicycle bells, that were soon followed by bicycle coaster brakes and wheel hubs. The Rockwell's were early motorists who also produced the Houpt-Rockwell (1904 to '11), a high-quality automobile and an additional model for taxi cab use that were marketed by Harry Houpt in New York City.
In 1909 New Departure invented and patented a two-row axial ball bearing which could also take a thrust load, it was followed by a similar single row ball bearing. In 1916 the Company was bought by William Durant the president of GM when he was purchasing companies for the United Motors Corporation, it then became an important division of GM in 1918 when United Motors was purchased by the automaker. The 1:7-minute long video above produced in the 1930s covers of the bearing Company's products up until that time.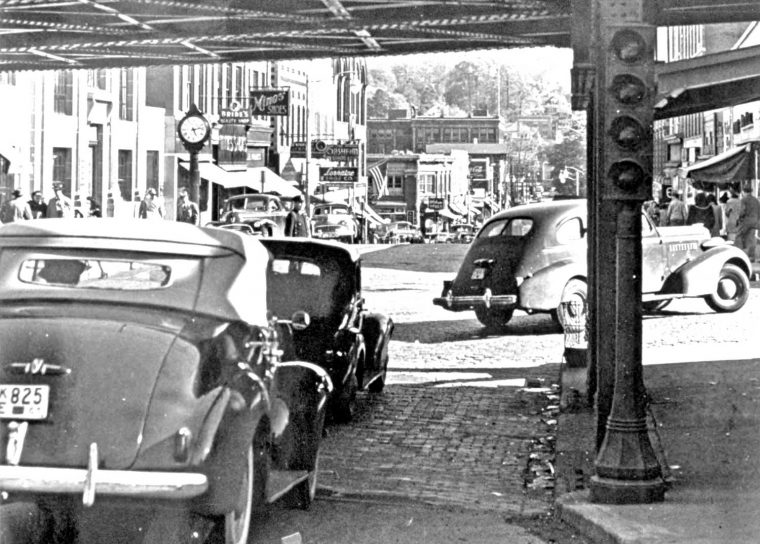 The traffic light located underneath the railroad line crossing Main street that serviced New Departure.
The New Departure plant buildings were located just to the west of Main Street in downtown Bristol until the buildings were torn down in the late-1960s after a large new building was constructed on the outskirts of the city in 1968 by GM. Not long after the move less expensive high-quality bearings began to be manufactured in Japan which soon led to a decline in New Departure's market share, and GM finally ended the Company's operations in 1993.
Tell us what you find of interest in the images courtesy of the Connecticut History Illustrated Archive.