The lead image shows the scene on the evening of October 21, 1955, introduction day of the new 1956 Lincoln and Mercury models at Carr's Motor Sales in Austin, Texas. All eyes are on the impressive new Continental Mark II. John Reinhart was the chief stylist of the Mark II and Gordon Buehrig the chief body engineer of the refined and tastefully styled top of the line personal luxury car. A Lincoln Premier is in front of the showroom window, and a Mercury Monterey four-door sedan in the foreground.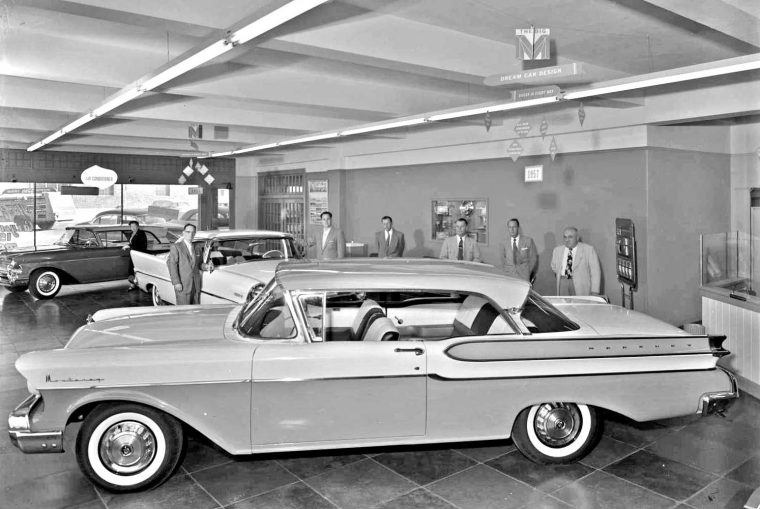 A more subdued scene is shown above in a press photo taken on November 28, 1956, of the new 1957 models. This year may have been the first time the Mercury was referred to as the "The Big M" and its new styling as the "Dream Car Design," other attributes of the car were spelled out on panels of a pair of mobiles hanging from the showroom ceiling. In the foreground is a Mercury Monterey two-hardtop, a Lincoln Premier two-hardtop takes center stage, and another Mercury in next to the front window.
Carr's Motor Sales facility seen below in 1956 was located in Austin, Texas at the intersection of 501 West 6th Street and San Antonino Avenue, the building has not survived.
Tell us what you find of interest in the photos by Dewey G. Mears courtesy of the Austin Public Library.