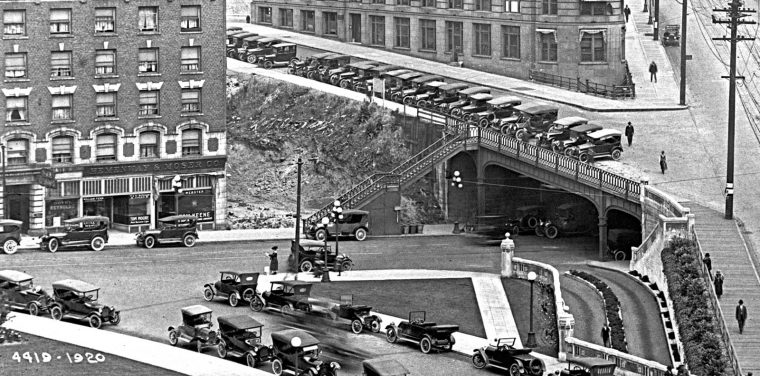 Yesler Way in Seattle, Washington travels up First Hill in a westerly direction and then through the southern part of the City's downtown and eventually ends up in Pioneer Square near Elliot Bay, and the Alaska Way which we have visited earlier. The Hill is named after City businessman Henry Yesler, who purchased a part of it to harvest timber growing on it in the mid to late-1800s.
First developed in the late-1880 to '90s the area to the north and south of Yester Way soon became a neighborhood of the well to do who built residences there. A new King County Courthouse was constructed on the Hill circa 1911, and Seattle lawyers caused it to become known as "Profanity Hill" due to their harsh comments about the steep climb up to the courthouse. The Yester Building in the center of the photo was apparently also known as the Public Service Building.
This circa photograph of the hill with only two parked cars visible on it apparently demonstrates that motorists of the time may have avoided using the thoroughfare whenever possible. The steep climb must have been very hard on cars with engines using a splash-feed oiling system, and on clutches and transmissions. Vehicles with a gravity-feed gasoline delivery system could not climb it unless driven in reverse, the decent also strained the two-wheel braking systems in use at the time.
Tell us what you find of interest in this image courtesy of the Seattle Municipal Archives.