The AACA Hershey Fall Meet has come a long way since it was first held in 1954 by the Pottstown, Pennsylvania Region. The following year the Hershey Region was formed, and it hosted the second AACA Fall Meet at the Hershey Stadium. That same year seven individuals set up outside of the Stadium selling parts, and the Flea Market was established. In 1958 the parts vendors set up inside of the Stadium.
In 1961 on the AACA's 25th anniversary, the Fall Meet was the starting point for the Glidden Tour, and the combination of the two events resulted in close to nine-hundred cars being entered in the show. The early cars were displayed inside of the Stadium and the Flea Market, and later cars were set up in an adjacent field. By 1965, there were over three-hundred Flea Market vendors and more than one-thousand cars in the show.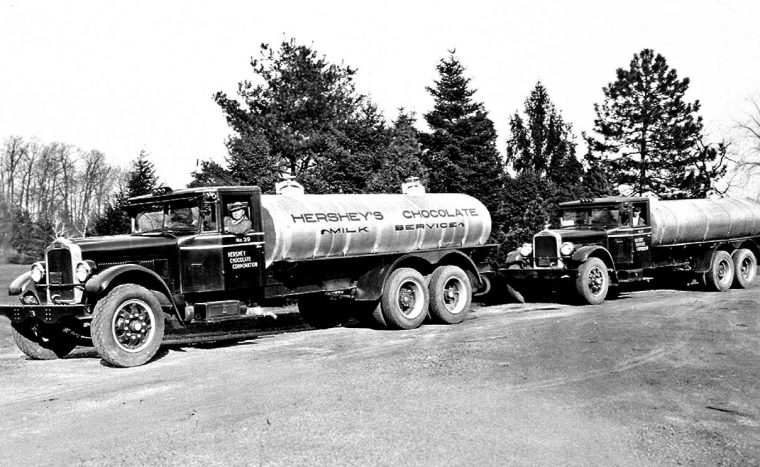 Hershey Chocolate Corporation White trucks gathering milk from dairy farms in the surrounding area.
By 1971, the Flea Market had grown to include twenty-nine hundred spaces. The Red Field was added in 1974, and in 1979 there were a record fifty-three hundred Flea Market spaces. In 1981, the Meet covered eighty acres with some twelve-hundred cars in the Show. By 1985, there were over twenty-one hundred cars entered in the show, and it was considered to be the largest old car event in the country and possibly the world. By the late 1980s, there were over ten-thousand Flea Mart spaces.
The 1990s were another successful decade for the event although it was hampered by hurricanes, rain, and mud for a number of years. In 1997 over seventeen-hundred cars were entered in the show, and there were over ten thousand Flea Market spaces on four fields and size wise it had grown in size to close to three-hundred acres. The new century resulted in many changes due to construction, paving of the fields and the construction of the Giant Center. Due to space restrictions, the event has stayed at about the same size yearly for some time now. The AACA Hershey Region oversees it with seventy-five different committees and seven-hundred and fifty volunteers.
This year the 63rd edition of the Flea Market, Car Corral, and Car Show promises to be just as good or better as all the earlier meets. Hershey is the perfect place to find parts for a vehicle, sell or purchase a car or truck, and attend the Car Show. Learn all the details the 2017 Eastern Division National Fall Meet here and the AACA here. Photos courtesy of the AACA.