According to various reports, "Rattlesnake Pete" (1858–1932) was born and raised in Oil City, Pennsylvania; there as a young man, he learned the art of dealing with rattlesnakes and their venom and oil from the Seneca Indians. He moved to Rochester, New York in the early-1890s after his father's restaurant and saloon were destroyed in the Oil City Flood. In the City, he established his own Museum and Saloon filled with weapons, tools, oddites, models and caged rattlesnakes and other animals and also traded in rattlesnake venom and oil, and blended and sold his own liniment.
Ever the showman "Rattlesnake Pete," (Peter Gruber) an early motorist, is shown in the lead image with his mystery circa-1904 to '06 touring car outfitted with oversized acetylene headlamps and oil cowl lamps (under covers), and decked out in custom-made Eastern Diamondback rattlesnake skin hat and garments below. The lower photo shows two of his ever-present St. Bernard dogs with their hair shaved to resemble Lions.
Tell us if you can identify the maker of "Petes" touring car and what you find of interest in the photographs courtesy of the Rochester Museum & Science Center.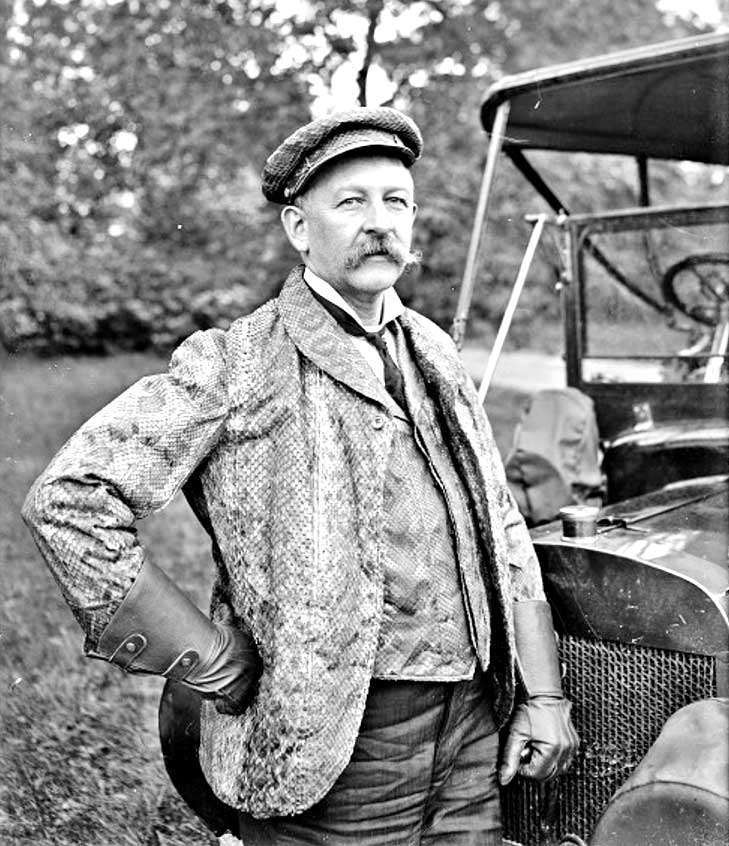 "Rattlesnake Pete" decked out in a rattlesnake skin hat and garments above posing with his early touring car – Two of his St. Bernard dogs waiting for their daily summertime ride to cool off below.