Updates I & II – This is the first time I have done a tribute like this on The Old Motor, but one of my best friends for the last forty years, Stanley Lynde (63), passed away Monday 9, 2017 during the evening. It was two weeks after he and his wife Laura D'Angelo Lynde where hit and injured by a driver of a pickup truck who made a left turn directly into their lane before he even had the time to react. They were traveling south on a motorcycle on Vermont State Route 5 here in southeastern part of the state. Stanley was air-flighted to the Albany New York Medical Center, and Laura, who has survived, was treated and released from the Dartmouth Hitchcock Medical Center in New Hampshire.
Here in the Brattleboro, Vermont area, Stanley and Laura have been longtime supporters of the local community and would give the shirts off of their backs to help out anyone in need. He was one of the best mechanics, and trouble shooters around, and also a skilled machinist, welder, fabricator, and a collector and restorer of vintage motorcycles and other vehicles who would all ways help others with their projects. I consider myself fortunate to have had him work with me at The Old Motor on projects in the shop for a while when he was transitioning from working for other shops and beginning to start his own business, Lynde Motorsports some twenty-five years ago.
One of the reasons I am publishing this is to ask our readers to contribute and help out his wife Laura D'Angelo Lynde who is recovering from injuries sustained in the crash, and his family with expenses in their time of need. Stanley's daughter Kelli Lynde Worden has established a Stanley and Laura Lynde gofundme campaign to help out with expenses incurred since this tragedy happened and to help Laura recover and get back on her feet. At the time of this writing the fund has received over 90% of its goal, but I am asking my old car friends and readers to take a few moments to help out with a contribution in their time of need.
Update II: Take a few moments to view both Stanley and Laura in the video below and their shop.
Update I: Quotes in the news online and on Facebook about Stanley tell just how special he was:
The Brattleboro Reformer: "A beautiful soul: Lynde succumbs to injuries, dies Monday morning"
Kelli Lynde Worden Stanley's daughter online and in the area newspapers: "My Dad has always lived his life to the fullest. His love and laughter were his greatest gifts. He had an ability to teach others and make each and every person he met feel like the only person in the room. We are all better people because we knew and loved my Dad."
The Republican – Mass Live Northampton, MA: It's a 45-mile ride from Northampton to Brattleboro, but local motorcyclists say visiting with Stanley Lynde — a mechanic, metalworker and shop proprietor who specialized in vintage steel — always made it worth the trip.
"Lynde Motorsports is where you would go and hang out if you were riding in Vermont," said Steve Sanderson of Northampton. "Stanley was one of the finest human beings I've ever known."
RIDE-CT & RIDE: NewEngland's Arlo Mudgett described Lynde as a "wicked nice guy" and "knowledgeable professional," and termed Lynde Motorsports as being "as much a cultural center as it is a repair facility."
Keene Sentinel (NH) Liora Engel-Smith: BRATTLEBORO — "When news about Stanley Lynde's motorcycle crash last month spread in the Brattleboro area and beyond, his family and friends prepared for his homecoming. Someone repaired his chimney. Others delivered wood and heating oil to his home in Putney and his motorcycle shop in Brattleboro. A close friend even excavated at his home so an access ramp could be installed for when he returned."
The lead photo shows Stanley and Laura at a local show in May of 2017 with a friends Model "A" Ford.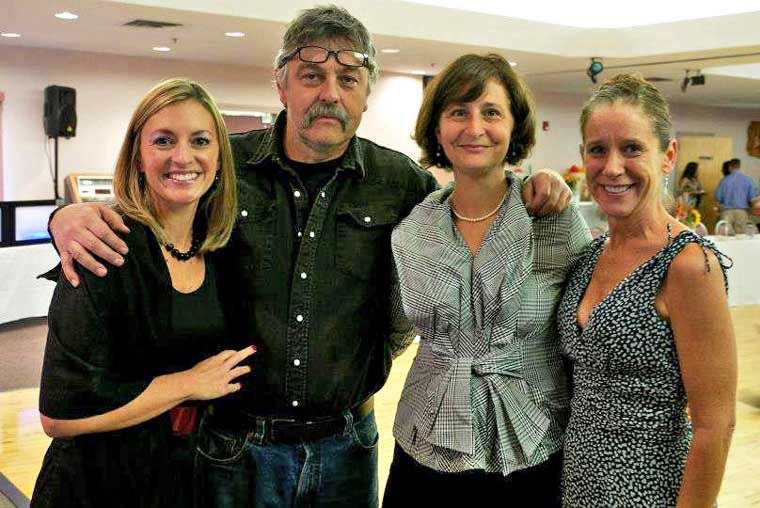 Stanley with his daugher Kelli Lynde Worden on the left, his wife Laura D'Angelo Lynde on his right and his sister in law Christine Lynde on the far-right at a recent family function.