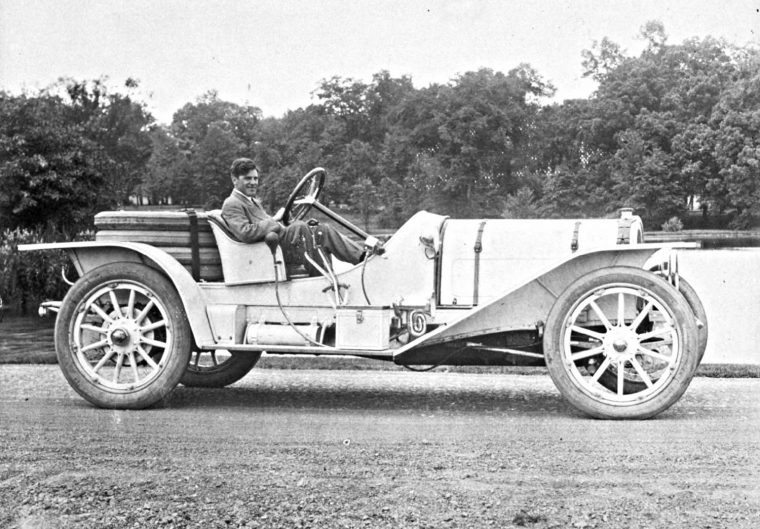 This circa 1913 Pope-Hartford "Portola" or "Club Roadster" is reported to have been custom built by the Hartford, Connecticut automaker to order for Thomas C. Perkins. The lead image and the enlargeable version of it above with four spare tires strapped to the rear deck with leather belts appears to be as the car was delivered, Fred Wright, Perkins' driver is behind the wheel. The high-quality automobile was finished in white and upholstered with green leather – note the "P" monogram for Perkins in the center of the side of the seat.
The roadster is appears to be a Pope-Hartford Model 29 with a six-cylinder o.h.v. 60 h.p. 471 c.i. engine that has a 4-5/8″ bore x 5-3/8″ stroke and the cylinders cast in pairs, the wheelbase is 133-inches. The advertisement below gives more details of its makeup.

"The Motor World" June 27, 1912 advertisement introducing the new 1913 models.
The enlargeable version of the car below shows it after apparently being customized at the "Brassill's Auto Service Station at the Hotel Bond which has survived. The facility first opened in 1913 at 338 Asylum Street in Hartford, the Capitol City of Connecticut.
In this view of the Pope-Hartford, the cowl has been removed, the seats are supported by brackets, and large gasoline and oil tanks have been added to the rear deck. Another change is the removal of the wooden artillery wheels which were replaced with wire wheels, possibly made by Rudge Whitworth. The area between the rear frame horns where the original gas tank was installed is used to contain a spare tire tray upon which three wire wheels and tires were mounted.
Tell us what you find of interest in the images courtesy of the Connecticut History Illustrated Archive.