A recent post featured a 1940 Mercury Fuel Economy Test Car Run in Peekskill, New York, by Posey Motors Inc., a Ford and Mercury sales agency located fifty miles north of New York City on the Hudson River. We return to Peekskill once again, this time to view photos of the Posey Motors used car sales lot apparently taken before or after the start of World War II. The great majority of the vehicles offered in the lot are Ford and Lincoln cars with the balance manufactured by other automakers. The oldest cars appear to date back to the early-1930s with the latest appearing to be circa-1939.
Of note in the photos are the "Scottie Cars" signs featuring a depiction of a Scottish Terrier with a bone in its mouth – this was a program run by the Ford Motor Company at the time to help its dealers sell their used car stock at the lowest prices possible. A GMC pickup truck visible at the far-left bottom corner of the image has signboards reading "G.M.C. Trucks – At Your Service – Lockwood Motors Inc. – 17 South Broad Street," the Pontiac logos indicate it also handled that GM brand.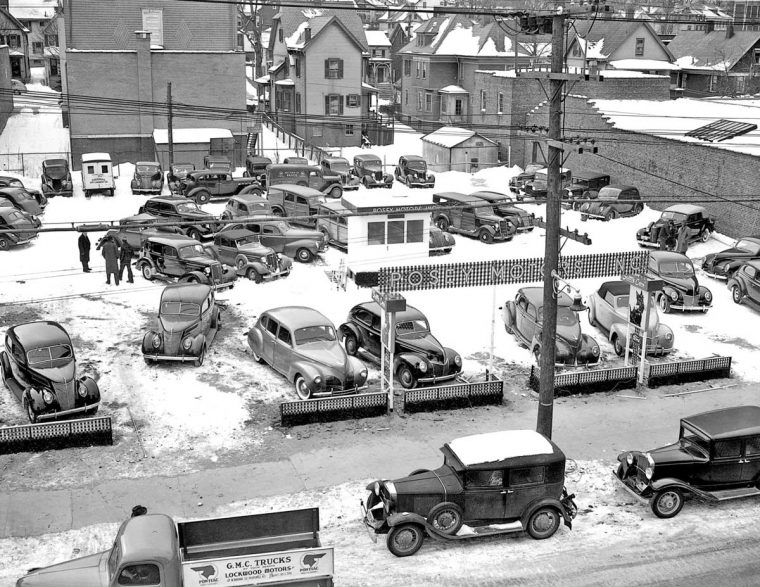 The location of Posey Motors in Peekskill is unknown at this point, but the photo below taken on a different date contains a side view of the dealership. At the far-left of the image, in front of the telephone pole Posey's Ford and Mercury sign is visible, behind it is a sign for a Chevrolet agency. This may indicate that Posey Motors was located on "Automobile Row" in the City.        
Let us know what you find of interest in this photograph found via This Was Americar.